One-Room School
------------------------------------------------------------------------------------------------------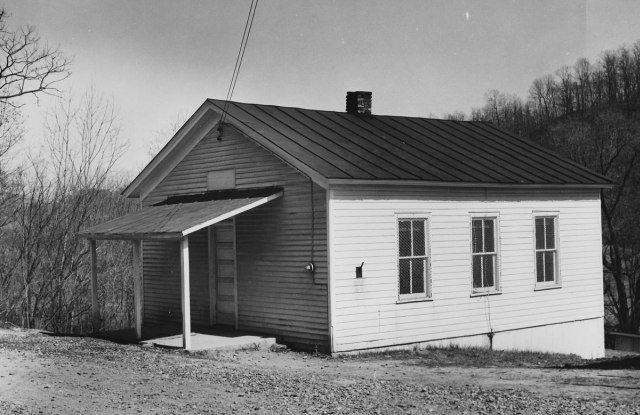 In 1995, Union School, a one-room schoolhouse on Guyan Creek Road, was moved to
the Marshall University campus to become the Oliv and Jesse Cline Museum.
------------------------------------------------------------------------------------------------------
HUNTINGTON -- In the 19th and early 20th centuries, many American students attended one-room schoolhouses.
A single teacher would typically have students in the first through eighth grades, and she taught them all.
The number of students varied from six to 40 or even more. The youngest children sat in the front,
while the oldest students sat in the back. The teacher usually taught reading, writing,
arithmetic, history and geography. Students were expected
to memorize and recite their lessons.
Although the number seems almost hard to believe, records show that Cabell County once had
more than 100 one-room schools, many of them reached only by dirt roads. As the years
went by, that number was steadily reduced. By the early 1960s, only a dozen or so
of the county's one-room schools remained in use.
The county's last one-room school, little weather-beaten Walnut Grove School at Glenwood near the
Cabell-Mason county line, was still open in 1966. The previous school year it ended the year
with 13 pupils. It had started the year with 18, but then a family with five school-age
children moved away. Soon, Walnut Grove, too, closed its doors.
In 1995, a circa 1888 one-room schoolhouse was relocated to the Marshall University campus
where it stands on 5th Avenue across from the Campus Christian Center. Honoring
West Virginia's rural education heritage, it houses the Ovie and Jesse Cline
Museum and was funded by Huntington businessman Phil Cline,
an MU alumnus, in memory of his parents, who attended
and taught in a one-room school.
Officially named Union School, the old schoolhouse on Guyan Creek Road was generally called the
"Punkin Center School" by the locals. When Professor Paul Lutz tracked down the former
school, owners Tina and James Bryan were using it for storage.
They readily agreed to donate it to Marshall.
-----------------------------------------------------------
Note: This Article and picture appeared in the Herald-Dispatch Newspaper on March 27, 2017.
-----------------------------------------------------------
[ Back ]