The Orpheum Theater
------------------------------------------------------------------------------------------------------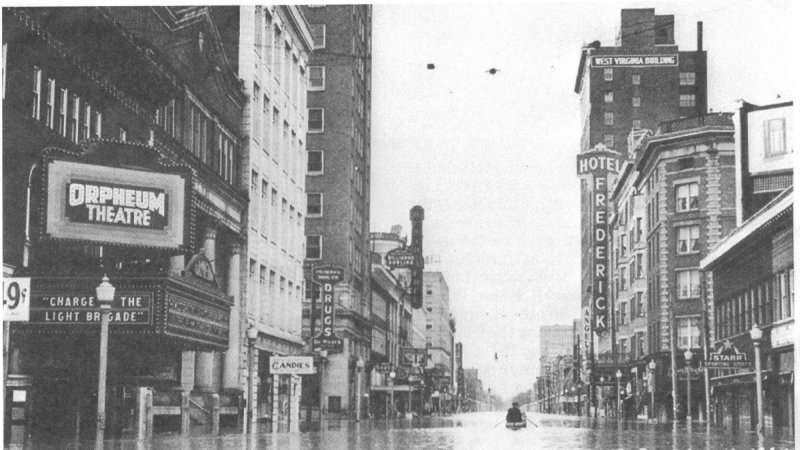 ------------------------------------------------------------------------------------------------------
The Orpheum Theater was one of many 4th, Avenue businesses inundated by the 1937 flood.
Note the rowboat making its way down the middle of the flooded avenue.
------------------------------------------------------------------------------------------------------
HUNTINGTON -- In September of 1915, workers began tearing down the houses located next door to the Huntington Elks Lodge
on downtown 4th Avenue. Prominent local businessman C. Lloyd Ritter told The Herald-Dispatch
he planned to use the site for construction of either a movie theater or a three-story office building.
A few weeks later, the newspaper reported that Ritter had decided to build a theater. Plans for the new 1,600-seat theater,
Ritter said, had been drawn up by well-known Huntington architect Verus T. Ritter.
Ritter said the theater would be leased to a group of Cincinnati businessmen who owned a number of other theaters.
The new $75,000 theater would be named Orpheum, he said, and would be affiliated with that chain of movie theaters and vaudeville houses.
Although intended primarily as a movie theater, the Orpheum's stage was large enough to accommodate even the largest productions, he said.
The Orpheum opened March 20, 1916, with a showing of "Peggy," a movie with Broadway actress Billie Burke in her first film role.
As was the custom at the time, a live orchestra provided music to accompany the movie. "PREMIERE OF THE OREPHEUM BIG SUCCESS,"
headlined The Herald-Dispatch the next morning.
In March of 1917, the Hyman family took over the Orpheum lease. At that time, the Hymans already controlled
two other Huntington theaters, the Lyric and the Dixie. They would go on to buy or build a number of
other Huntington theaters, including the grand Keith-Albee, which opened in 1928.
As the film business changed, the Orpheum was renamed the Cinema and subdivided into four small theaters.
But one by one, declining business forced the Hyman family to close its Huntington theaters.
The former Orpheum closed its doors for the last time in 2011. Today, Crew Church worships at the old theater.
-----------------------------------------------------------
Note: This Article and picture appeared in the Herald-Dispatch Newspaper on Dec. 28 , 2015.
Note: The picture that was used was the Courtesy of the U.S Army Corps of Engineers.
-----------------------------------------------------------
[ Back ]