Owens - Illinois Plant
------------------------------------------------------------------------------------------------------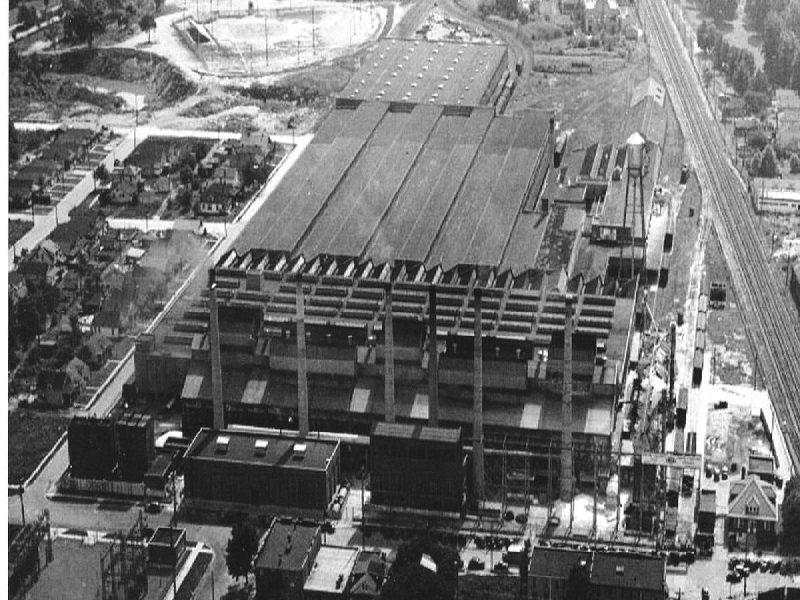 Over the years, the Owens-Illinois Plant in Huntington made millions
of glass bottles and containers.
------------------------------------------------------------------------------------------------------
Editor's note: This is the 206th in a series of articles recalling vanished Huntington scenes.
HUNTINGTON -- For many years, the Owens-Illinois Glass Co., based in Toledo, Ohio,
operated three glass factories in West Virginia - in Huntington, Fairmont and Kanawha City.
All three based their manufacturing operations on a revolutionary bottle-making machine,
invented by West Virginia native Michael Owens in 1903. The success of this
machine led to the establishment of the Owens Bottle Machine Co.
In 1929, Owens merged his company with the Illinois
Glass Co. to become Owens-Illinois.
In 1914, Charles Boldt started manufacturing glass in Huntington at a plant on the city's
south side. The factory began with three furnaces and two of Michael Owens's
bottle machines. In 1918, Michael Owens purchased the Huntington
factory. By 1947, the plant had expanded to five furnaces
and employed more than 1,100 people.
Over the years, the Huntington plant made millions of
glass bottles and containers. The company's other
West Virginia plants were equally busy.
But ultimately production declined sharply, as plastics gained an ever larger share of the
market. As a result, the Kanawha City plant closed in 1963 and the Fairmont
plant in 1982. Finally, in 1993, the Huntington plant closed, leaving
600 workers jobless. Many were long-time employees
who had never worked anywhere else.
Responding to the closure, the city of Huntington purchased the idle glass plant,
renamed it the Huntington Industrial Center and set about recruiting a
number of industries to locate at the plant. One of these was
Level 1 Fasteners, which makes high-quality fasteners
for the military and NASA. In 2011,
Level 1 purchased the center.
-----------------------------------------------------------
Note: This Article and picture appeared in the Herald-Dispatch Newspaper on Oct. 23, 2017
-----------------------------------------------------------
[ Back ]