Page Pitt
------------------------------------------------------------------------------------------------------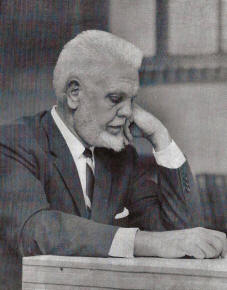 W. Page Pitt taught journalism at Marshall University for 45 years
------------------------------------------------------------------------------------------------------
HUNTINGTON — In 1926, when William Page Pitt arrived in Huntington
to join the faculty of what was then Marshall College, he
found one journalism class with five students.
In his 45-year career at Marshall, he built the school's journalism
program into one with dozens of classes, hundreds of students
and a reputation for excellence. Today, Marshall University's
W. Page Pitt School of Journalism and Mass
Communications is named in his honor.
Born in New York City in 1900, Pitt moved with his family to
Shinnston, W.Va., when he was 12. As a teenager, he
worked summers in his father's small coal mine. He
graduated from Ohio's Muskingum College in
Ohio in 1925. Already a talented writer, he
had worked his way through college by
freelancing for newspapers in
Columbus, Cincinnati
and Pittsburgh.
Before coming to Marshall, he taught for a year at Glendale
College, also in Ohio. Later he earned a master's
degree at Columbia University in New York.
After the age of 5, Pitt was sightless in one eye and had only 3%
vision in the other. Nonetheless, he refused to let himself be
handicapped by his vision problem. He was a prolific
writer whose byline frequently appeared in national
magazines and newspapers. He also was an
expert bridge player and shot
a mean game of pool.
A legendary figure on the Marshall campus, Pitt often was
referred to as "The Grand Old Man of Journalism,"
a title the West Virginia Legislature made official
in a proclamation issued when he retired in
1971. After retiring, he moved to Stuart,
Florida, where he died in 1980.
-----------------------------------------------------------
Note: This Article and picture appeared in the Herald-Dispatch Newspaper on May 25, 2021.
-----------------------------------------------------------
[ Back ]