Permons Restaurant
------------------------------------------------------------------------------------------------------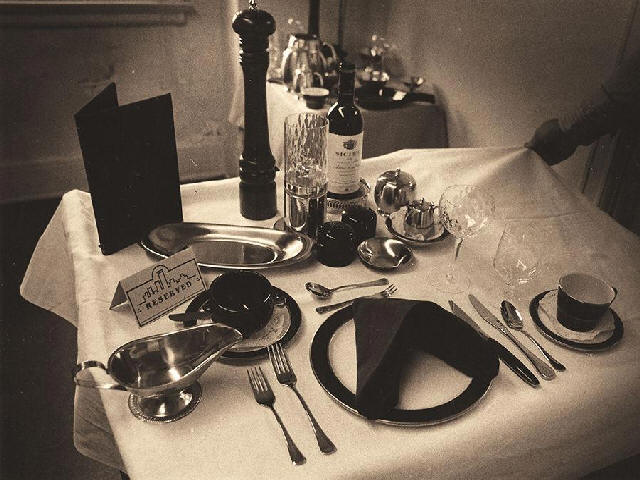 The elegant tables at Permons restaurant, located on the top floor of the
West Virginia Building, were set with custom-designed plates
and hand-blown West Virginia glassware.
------------------------------------------------------------------------------------------------------
HUNTINGTON — The 15-story West Virginia Building at 4th Avenue and 9th Street
was an impressive structure when it was built in 1924. It was then the tallest
building in West Virginia, and it remains the tallest in Huntington.
But years of neglect had taken a toll on the once-grand building by the time Huntington
businessman Huey Perry and his partners — his brother Mervil and Jeff Monroe —
acquired it in 1981. They bought the building at a bargain price of $500,000
but spent far more than that restoring it — including $700,000 to design,
build and furnish a fancy restaurant on the top floor. The partners named
their new restaurant Permons, a contraction of their names.
Perched high above downtown Huntington, Permons offered spectacular views.
A projecting terrace was built on the river side of the building, giving diners
seated there the feeling of floating in mid-air. Enclosed in glass, the
terrace offered a spectacular view of the landscape below.
Diners arriving at Permons were greeted by a doorman and a valet who took their
cars off to a nearby parking lot. Then an elevator whisked them up to the
restaurant, where the tables were set with custom-designed plates,
hand-blown West Virginia glassware and other eegant touches.
The extensive menu offered only the finest in food and drink.
Pianist Allen Stotler played in the evenings
and at Sunday brunch.
Permons closed in 1986. "It was an extraordinary restaurant,"
Huey Perry recalls. "We unfortunately got caught
up in a recession and were only able to
keep it alive five years."
Note: This Article and picture appeared in the Herald-Dispatch Newspaper on Jan. 26, 2021.
-----------------------------------------------------------
[ Back ]