Pilgrim Glass
------------------------------------------------------------------------------------------------------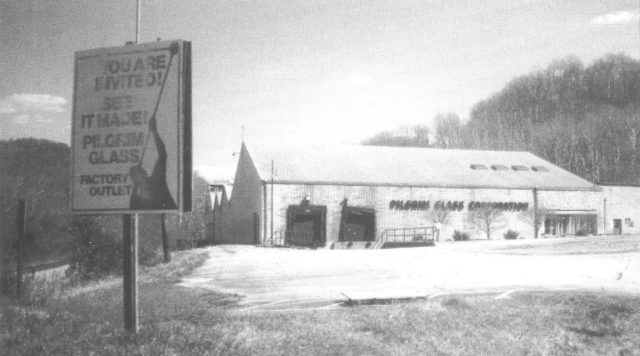 Pilgrim Glass on Ceredo's Walker Branch Road closed ia doors in 2001.
------------------------------------------------------------------------------------------------------
HUNTINGTON -- In his own words, a 34-year-old Alfred Knobler had "$5,000 and a lot of chutzpah"
when he came to Wayne County in 1949 and started the Pilgrim Glass Corp. in Ceredo.
After earning a degree in ceramic engineering at Virginia Polytechnic Institute, Knobler went to work for
Trenton Potteries in New Jersey. One of his suppliers was the Tri-State Glass Manufacturing Co.
in Huntington. The company was unable to get enough natural gas in winter and so was put
up for sale. Knobler convinced Columbia Gas to extend a larger pipeline to the company
and created Pilgrim Glass from Tri-State's modest facilities. He opened
a new plant on Walker Branch Road in Ceredo in 1956.
Over the decades, Pilgrim gained a well-deserved reputation for its quality tableware
and art glass. Today, many of its glass pieces are eagerly sought by collectors.
During the early years, Pilgrim's main product was hand-blown crackle glass in a
variety of colors, produced by immersing the hot glass piece in cold water and
then reheating it. In the mid-1950s, two brothers from Italy, Alessandro and
Roberto Moretti, came to work at Pilgrim. When Knobler saw their
remarkable skill in making novelty items, he added a series
of small glass animals to Pilgrim's offerings.
Pilgrim had a popular glass exhibition at the 1964 New York World's Fair. In 1969,
plant manager Karel Konrad introduced cranberry glass, which became a
big seller for the company. In the 1980s, cameo glass was perfected
at Pilgrim by artists Kelsey Murphy and Robert Bomkamp.
In 2001, the aging Knobler offered Pilgrim Glass for sale. Unable to find a buyer,
he reluctantly closed the plant. He was 92 when he died in 2007.
The plant building stood vacant until 2006 when
it became home to Huntington Testing.
-----------------------------------------------------------
Note: This Article and picture appeared in the Herald-Dispatch Newspaper on Feb. 27, 2017
-----------------------------------------------------------
[ Back ]