Pilgrim Laundry
------------------------------------------------------------------------------------------------------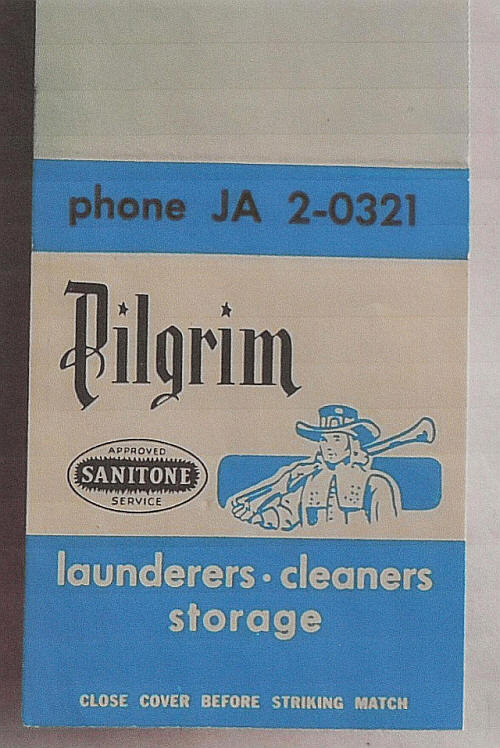 Back in the 1950s and 1960s, with cigarette smoking a widespread habit,
many businesses found that matchbooks were a handy form of advertising.
Here's a Pilgrim Laundry matchbook, with the familiar caution –
"Close Cover Before Striking Match."
(Article by James E. Casto)
------------------------------------------------------------------------------------------------------
HUNTINGTON — In 1887, only 16 years after the city of Huntington was
born, a young man named Woo Dell arrived in the young community.

Armed with a letter of credit from a Chicago bank, he rented a small room
on the north side of 3rd Avenue between 7th and 8th streets where he
opened Huntington's first commercial hand laundry. As the business
prospered, he sent to China for his two brothers, convincing
them to join him here. The busy laundry moved across the
street where it operated for a number of years.
About 1910, George Eversole opened the city's first laundry using
machinery. His business, the Ideal Laundry, was located
on 13th Street between 2nd and 3rd avenues.

Over the years, a handful of companies dominated the commercial
laundry business in Huntington. One such was the Pilgrim
Laundry and Dry Cleaners Co. The Pilgrim firm was
established by Cecil L. Elkins in 1937.

Elkins opened a network of locations where customers could
drop off and pick up their laundry and dry cleaning. Each
site was readily recognizable by a sign displaying the
company's logo, a stern-looking Pilgrim shouldering
a rifle. The 1960 Huntington City Directory listed
eight Pilgrim locations strategically placed
around town. The company also offered
door-to-door laundry service.

In 1969, Mingo County businessman Ray L. Hampton
purchased Pilgrim Laundry. Changing the company's
name to Pilgrim Fabric Care Services Inc., he
undertook several new services, including an
extensive selection of draperies, along with
Kirsch drapery rods and hardware,
pillows and bedspreads. He also
began offering carpet
cleaning services.

According to records in the West Virginia
Secretary of State's office, Pilgrim
Fabric Care was dissolved
in 1973.
-----------------------------------------------------------
Note: This Article and picture appeared in the Herald-Dispatch Newspaper on Jan. 25, 2022.
-----------------------------------------------------------
[ Back ]