Pleasant View Manor
------------------------------------------------------------------------------------------------------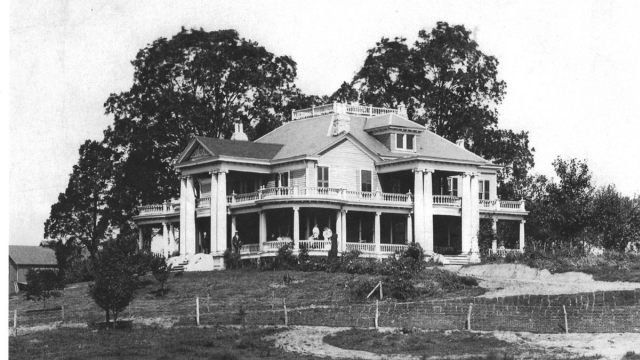 Pleasant View Manor was the home of Delos W. Emmons and his wife Mary.
------------------------------------------------------------------------------------------------------
HUNTINGTON -- People often are surprised when they learn that town founder Collis P. Huntington
never lived in his namesake city. The famed rail tycoon's complex business dealings required that he
spend months at a time in California, New York and other far-flung places. This meant he needed
somebody who could be in charge in his absence. He found that man in his brother-in-law,
Delos W. Emmons (1829-1905), who had married Huntington's sister Mary.
At C.P. Huntington's request, the couple moved to Huntington, where in 1871 Emmons oversaw
the first sale of lots in the new town. Later that year, he was elected to Huntington's first city
council. He served on a committee for the building of the city's first two public schools
and was elected a director of the newly organized Bank of Huntington.
Emmons bought the old Thomas Buffington plantation on the Ohio River just below the mouth of the
Guyandotte River. He sub-divided and sold off much of the 434-acre plantation, while renovating
and enlarging the Buffington home, which he named "Pleasant View Manor."
The home was painted a beautiful pale yellow with white trim.
Emmons retained enough of the original plantation to operate a large farm. It's said that
each day when he left for his office downtown, he would take some eggs
or vegetables and share them with his friends and business associates.
When C.P. Huntington visited his new town, he either stayed at Pleasant View Manor
or downtown aboard his private two-car train. Town recorder John Hunt Oley was
such a frequent guest at the Emmons home that he had his own room
which was always kept ready for him. Oley died there in 1888.
The once-grand house at Staunton Road and 31st Street went through various ownerships over the years.
Finally, in 2003, it was demolished to make way for a new building erected by Hospice of Huntington.
-----------------------------------------------------------
Note: This Article and picture appeared in the Herald-Dispatch Newspaper on June 23, 2014.
-----------------------------------------------------------
[ Back ]