Pure Oil Service Station
------------------------------------------------------------------------------------------------------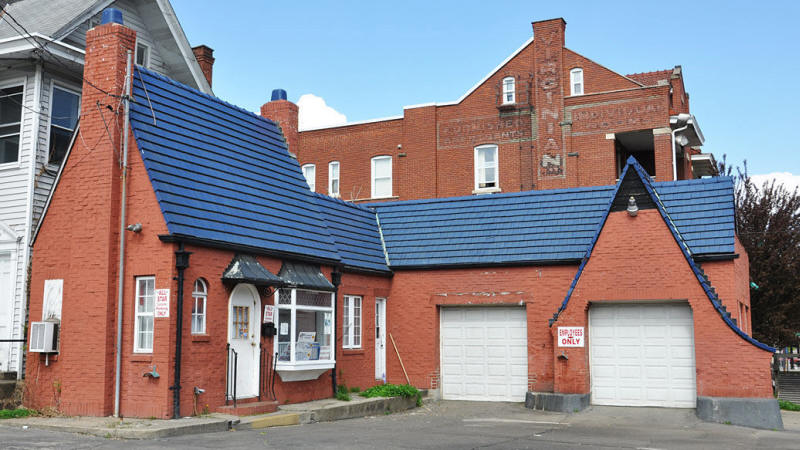 This car wash at 5th. Avenue and 7th. Street is located in a former Pure Oil Service Station.
------------------------------------------------------------------------------------------------------
HUNTINGTON -- By the 1920s, more and more Americans were buying automobiles
and so there was a corresponding increase in the demand for gasoline. But many
communities looked on gas stations as eyesores and even fire hazards.
In response, self-taught architect Carl August Petersen, who worked for Pure Oil Co., came up with a
gas station design that was dramatically different from the other stations being built at the time,
one he thought would be more readily accepted in urban landscapes.
Peterson's design looked much like an English Tudor cottage with bay windows, home-like entry doors,
steep gable roofs and end chimneys. The design proved popular, and from the late 1920s through the 1950s
Pure Oil built Peterson-designed stations throughout the Southeastern states it served. In the 1950s,
Neighborgall Construction Co. of Huntington built dozens of Pure Oil stations throughout West Virginia and Ohio.
At least a half dozen Petersen-designed stations were built in Huntington.
In 1965, Pure Oil was purchased by the Union Oil Co. of California, which rebranded the
Pure stations to sell Union 76 gasoline. In 1992, Union Oil ended its operations in the Southeast.
In addition to its local service stations, Pure Oil operated a Huntington river terminal at Virginia Avenue and
W. 13th Street which received petroleum by barge and then shipped it to customers by railroad tank cars or tanker trucks.
Pure Oil also operated a refinery at Cabin Creek in Kanawha County.
Most of the former Pure Oil stations have long since been demolished, but a few survive, remodeled for
other uses. In Huntington, a former Pure Oil station at 801 8th St. is now home to the Woelfel & Woelfel
law firm and a former Pure station at 5th Avenue and 7th Street is used as a car wash.
-----------------------------------------------------------
Note: This Article and picture appeared in the Herald-Dispatch Newspaper on Feb. 08 , 2016
-----------------------------------------------------------
[ Back ]