Ras-Tee Potato Chips
------------------------------------------------------------------------------------------------------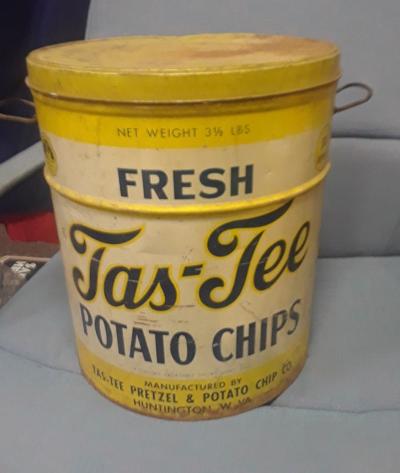 Huntington's Tas-Tee Pretzel and Potato Chip Co. retailed chips
in bags designed to sell for 5, 10, 49 and 69 cents each. Bulk
customers could purchase metal buckets holding
three and a half pounds of chips.
Courtesy of James E. Casto
------------------------------------------------------------------------------------------------------
HUNTINGTON — Believe it or not, downtown Huntington once was home
to a busy potato chip plant. In the 1940s and '50s, the Tas-Tee Pretzel and
Potato Chip Co. at 309 3rd Ave. produced untold thousands of the chips.

Owner Jerry A. Kitchen began business in the late 1930s
as a sales agent for a variety of food items. In 1945,
he started making his own potato chips.

In a 1956 interview with the Huntington Advertiser, Kitchen said that each
year saw the two dozen employees at his highly automated plant turn
out about a half million dollars worth of crisply cooked, neatly
browned and attractively packaged chips. A fleet of nine
trucks delivered the chips to customers
throughout the Tri-State.
As Kitchen explained, the plant's chip-making process saw tons
of raw potatoes dumped into a bin, from which they moved
on a bucket chain to the cleaner and peeler. The cleaned
potatoes then went through a disc slicer that produced
chips about the thickness of a dime. After the slicing,
the chips were plunged into a deep fryer.

"It takes only three minutes from the raw potato in the bin
to the market-ready chip in the bag," Kitchen said.

Meanwhile, Herman W. Lay was able to build his Nashville-based potato
chip company into a national brand. In his "Crunch! A History of the
Great American Potato Chip," author Dirk Burhans writes that one
way Lay did that was by buying a number of small chip companies
and shutting them down, centralizing production in a network
of new modern plants. Burhans lists Huntington's chip making
company as one of the many that Lay bought and closed.

The Tas-Tee Pretzel and Potato Chip Co. was last listed
in the Huntington City Directory's 1957-58 edition.
-----------------------------------------------------------
Note: This Article and picture appeared in the Herald-Dispatch Newspaper on Dec. 28, 2021.
-----------------------------------------------------------
[ Back ]