Rebels & Redcoats Tavern
------------------------------------------------------------------------------------------------------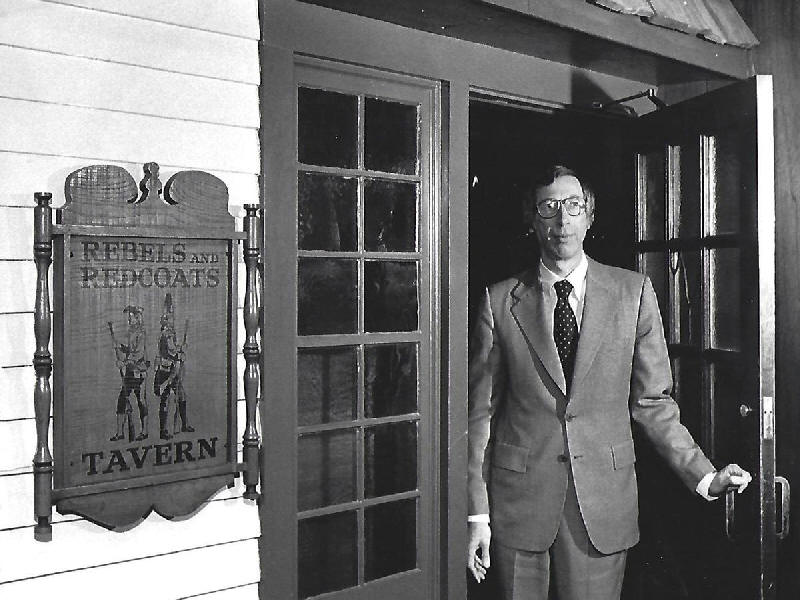 The late Lloyd Frankel was the genial host at Rebels & Redcoats
restaurant until his death in 1986
------------------------------------------------------------------------------------------------------
HUNTINGTON — "You're kidding me, right? You're really telling me that one of the
best restaurants in this town is in a bowling alley?"
Over the years, people in Huntington took great delight in introducing
disbelieving out-of-town visitors to Rebels & Redcoats Tavern,
the nationally acclaimed restaurant housed under the
same roof as Colonial Lanes.
Originally, Rebels catered only to the Colonial Lanes bowlers, serving draft beer, soft drinks,
crock cheese and an original sandwich of kosher corned beef, cream cheese and sweet
onion. But the arrival of liquor-by-the-drink in West Virginia in 1967 triggered a
decision by partners Lloyd Frankel and Charlie Neighborgall Sr.
to expand Rebels into a full-service restaurant.
Rebels offered a gourmet menu and wine list in a Colonial-style setting of rustic
brick and wood, a large wood-burning fireplace, pewter plates,
ruby red goblets and stained glass windows by Blenko.
A big part of the restaurant's appeal was its nightly live music, generally an
enjoyable mix of dance music and Broadway show tunes. Always a
perfectionist, Frankel tried to personally audition each musical
group before booking them. On a busy Friday or Saturday
night, it could be hard to find any room on
the crowded dance floor.
When Frankel died in 1986, Rob Neighborgall, Charlie's son, took over as manager.
In 2004, long-time customers were surprised to learn that Rebels, citing
increased competition from other restaurants, was closing as a
full-service restaurant and returning to its roots as a tavern.
In recent years, Colonial Lanes, with Rob's daughter, Amy Neighborgall-Fisher
in charge, remained a fun spot for local bowlers. Then, in June, came
another surprise announcement. After 60 years, Colonial Lanes
closed its doors and the building was put up for sale.
-----------------------------------------------------------
Note: This Article and picture appeared in the Herald-Dispatch Newspaper on Aug. 13, 2018.
-----------------------------------------------------------
[ Back ]