Remembering 'Duke' Ridgley
------------------------------------------------------------------------------------------------------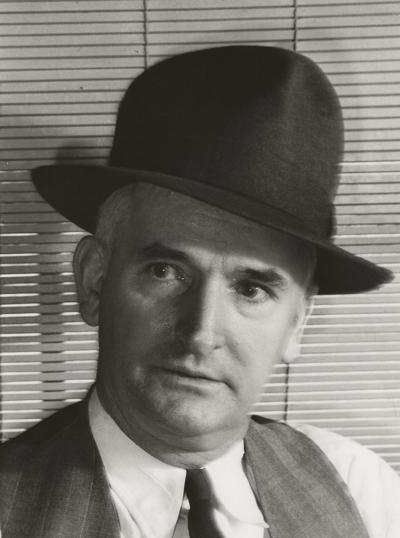 Duke Ridgley
Herald-Dispatch file photo
------------------------------------------------------------------------------------------------------
HUNTINGTON — Marshall University's gridiron teams have
long been known as the "Thundering Herd."
Ever wonder where that popular Marshall nickname came from? Long-time
Herald-Dispatch sports editor Charles V. "Duke" Ridgley is credited
with coining it way back in the 1920s.
He first referred to the Marshall football team as the "Thundering Herd"
after it defeated Glenville State Teachers College, 26-0, in the opening
game of the 1925 season. That was the same year that "The
Thundering Herd," based on a western novel by Zane
Gray, was showing in the nation's movie theaters.
Ridgley has also been said to be the first to call the old Huntington
High School football team the "Pony Express," although the
when and why of that have been lost in the mists of history.
Born in Milton, Ridgley was hired at the Herald-Dispatch in 1919
and shortly thereafter began writing "Diamond Dust," his sports
column that was a fixture in the newspaper for nearly 40
years, until he retired in 1959. After suffering a
series of strokes, he died in 1962.
Ridgley had no formal training in journalism; He helped his father operate
the Majestic bowling alley in the 800 block of 4th Avenue. He would
regularly pencil out accounts of each night's games at the alley
and deliver them to the Herald-Dispatch. Impressed by the
young writer's catchy phrasing, Managing Editor
Herman Gieske hired him as a sportswriter.
Even as a young man. Ridgley was a sharp dresser, given to brightly
patterned suits and sport coats, with loud neckties. Before turning
to journalism, he was a skilled shortstop on a series of early
baseball teams in the old Mountain State League. Noting
his snappy attire, some of his teammates soon started
calling him "Duke." The nickname stuck.
-----------------------------------------------------------
Note: This Article and picture appeared in the Herald-Dispatch Newspaper on June 7, 2022.
-----------------------------------------------------------
[ Back ]