Remembering "Gunner" Gatski
------------------------------------------------------------------------------------------------------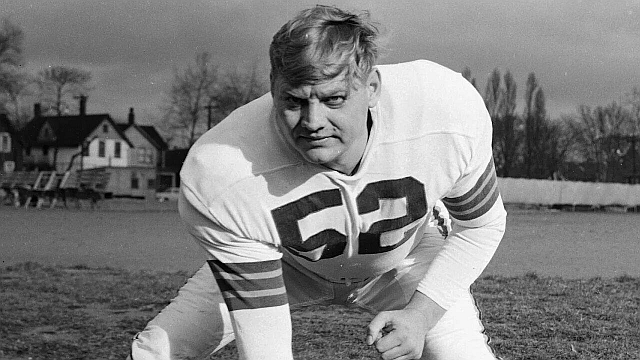 Frank "Gunner" Gatski was one of the greatest players
ever to wear a Marshall football uniform.

Photo courtesy the Cleveland Browns
------------------------------------------------------------------------------------------------------
People typically refer to the Ohio River Bridge at 31st Street as the
East Huntington Bridge, but it has a seldom-used official
name — the Frank Gatski Memorial Bridge, named
to honor one of the greatest players ever
to wear a Marshall football uniform.
Gatski was born in 1921 in Farmington, West Virginia, where his father
and grandfather were coal miners. He played for three seasons
on his high school football team, which played its games on
a cow pasture with no scoreboard, bleachers or game
clock. He worked in a coal mine during the summers
and went to work in the mine full-time
during his senior year in 1939.
In 1940, legendary Marshall coach Cam Henderson gave
Gatski a tryout and, impressed by what he saw, awarded
the young player a football scholarship. He started 17
games beginning in 1941, when Marshall posted
a 7–1 record. The team faltered the following
year, losing 7 games as many of its best
players had gone to serve in the military.
Gatski, whose hard-hitting football style had earned him the nickname
of "Gunner," joined the Army Reserve and in 1943 was called to
active duty, serving in the European theater. When he returned
home from the military in 1945 he still wanted to play
football. But Marshall had cancelled its football
program and had yet to revive it. So he enrolled
at Auburn University in Alabama, where he
played part of the season on the
school's football team.
But it was in the pros that Gatski really emerged as a grid star.
Graduating from Auburn, he joined the Cleveland Browns. He went
on to play 10 years for the Cleveland Browns (1946–56) and
one year with the Detroit Lions (1957). All in all, he played
in 10 championship games, eight of them on the winning
side. He retired from football in 1957 after
starting 132 consecutive games.
Long after his playing days were over, Gatski was elected
to the Professional Football Hall of Fame in 1985.
He was on hand at Joan C. Edwards Stadium on Oct. 15, 2005,
when Marshall retired his uniform number. Only weeks later,
on Nov. 22, he died of heart failure. The following year,
the East Huntington Bridge was named for him.
-----------------------------------------------------------
Note: This Article and picture appeared in the Herald-Dispatch Newspaper on Apr. 11, 2023.
-----------------------------------------------------------
[ Back ]