Remembering Dagmar
------------------------------------------------------------------------------------------------------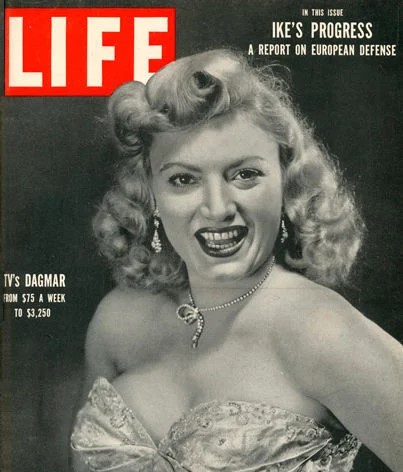 The actress Dagmar was born Virginia Ruth Egnor
on Nov. 29, 1921 in Logan County.
------------------------------------------------------------------------------------------------------
A star of early television, Dagmar was a dumb-as-a-fox blonde who at the
height of her popularity received thousands of fan letters a week.
..Born Virginia Ruth Egnor at Yawkey in Logan County in 1921,
she grew up in Huntington, attended Huntington High School
and worked at the Huntington Walgreen's before she
moved to New York, working there as a fashion
model and later as a Broadway actress.

In 1944-45 she was in "Laffing Room Only," a musical revue
produced by the comic team of Olsen and Johnson. She
also appeared with comic Bert Lahr in "Burlesque," a
Broadway comedy that ran for 439
performances in 1946-48

.Her big break came when she was picked for the cast of
"Broadway Open House," a vaudeville-style mix of
music and comedy that ran on NBC-TV in
1950-51 and was a forerunner
of the "Tonight Show."

The program's producers christened her "Dagmar," and the name stuck.
She was told to wear a low-cut gown, sit on a stool and act dumb
when host Jerry Lester talked with her. The studio audience loved
her deadpan delivery of punch lines and clever misuse of words.
The viewers at home were also delighted. Over the show's
brief run, her neckline plunged and her salary soared,
from $75 a week to more than $3,000.

Her picture, taken by famed photographer Alfred Eisenstaedt, was
on the July 16, 1951, cover of Life magazine. After "Broadway
Open House" left the air, she became a frequent guest on TV
shows headlined by Milton Berle, Bob Hope and other big-
name stars. Edward R. Murrow interviewed her on his
"Person to Person" show. Mitch Miller convinced Frank
Sinatra to do a record with her. When Cadillac debuted
a new design that featured dual chrome projections
on the front bumper, people quickly dubbed them
"Dagmars," a term still used by many auto fans.

Later in her career, she performed in Las Vegas shows and in
summer stock and was a frequent panelist on TV game
shows, including "Hollywood Squares." Retiring, she
moved back to West Virginia, settling in Ceredo
to be near her family. She died in 2001.
-----------------------------------------------------------
Note: This Article and picture appeared in the Herald-Dispatch Newspaper on Nov. 16, 2021.
-----------------------------------------------------------
[ Back ]