Remembering George S. Wallace
------------------------------------------------------------------------------------------------------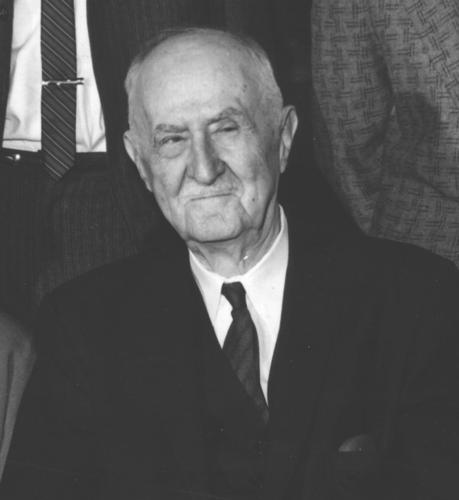 George S. Wallace was known throughout West Virginia
as an attorney, soldier, civic figure and historian.
Photo courtesy Marshall University Special Collections
------------------------------------------------------------------------------------------------------
George S. Wallace (1871-1963) rose from being a railroad
messenger boy to being known throughout West Virginia
as an attorney, soldier, civic figure and historian.
Born in Virginia and educated in the Richmond public schools,
he was 13 years old when he became a messenger for the
Chesapeake & Ohio Railway. Within a short time,
he became a C&O telegrapher and then a train
dispatcher. He studied law at West Virginia
University, graduating in 1897, after
which he began the practice of
law in Huntington.
As a member of the West Virginia National Guard, he
served in two wars, the Spanish-American and
World War I, retiring from military service
with the rank of Lt. Colonel. In 1917,
when Congress enacted the draft,
he was appointed by Gov. John
J. Cornwell to set up West
Virginia's Selective Service
System. In doing so, he
successfully registered
more than 125,000 men.

Wallace is looked on as the father of Huntington's sprawling
park system. He helped create the city-county Park Board
and served as its president for three decades.
A Democrat, he was active in city and county politics,
serving at various times as a city attorney, prosecuting
attorney and special circuit judge. In 1912, he was
a delegate to his party's national convention,
which nominated Woodrow Wilson
for president.
He was president of the Union Bank and
Trust Co. until the Great Depression
forced it to close in 1931.
Wallace had a lifelong passion for history and genealogy
and wrote a number of books and pamphlets. His
"Cabell County Annals and Families" (published
in 1935) and "Huntington Through Seventy-
Five Years" (1947) are essential reading
for anyone interested in local history.
-----------------------------------------------------------
Note: This Article and picture appeared in the Herald-Dispatch Newspaper on May 9, 2023..
-----------------------------------------------------------
[ Back ]