Remembering Henry Hatfield
----------------------------------------------------------------------------------------------------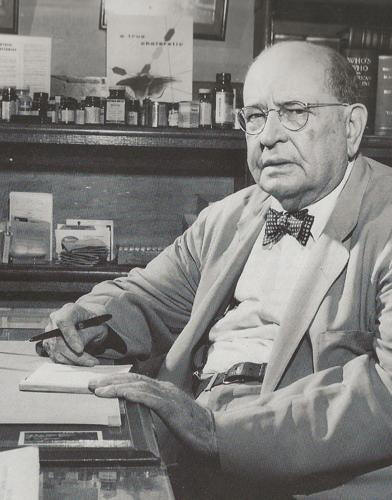 As governor, Henry Hatfield brokered an uneasy truce between
West Virginia's striking coal miners and the state's coal operators.

File photo | The Herald-Dispatch
----------------------------------------------------------------------------------------------------
The 14th governor of West Virginia, Henry Drury Hatfield
(1875-1962), was born on Mate Creek, near Matewan, W.Va.
A nephew of Anderson "Devil Anse" Hatfield of the famed
Hatfield-McCoy feud, he earned a medical degree at the
University of Louisville and returned to West Virginia
as a coal-camp doctor, working for the Pocahontas
Coal Company in McDowell County.
A Republican, he was elected to the McDowell County Court in 1906
and to the West Virginia Senate two years later. In 1912, Hatfield
was elected governor, the state's youngest to that date. (The
accompanying photo of Hatfield is taken from a postcard
distributed during his campaign for governor.)
When Hatfield became governor, the state was embroiled in a prolonged
and violent strike in the coalfields, Martial law had been declared,
and many miners had been tried and sentenced by military tribunals
. On the day after his inauguration, Hatfield traveled to the strike
region to treat wounded miners and colorful union leader
Mary Harris Jones, known as "Mother" Jones. He
granted a general pardon to her and the striking
miners and brokered an uneasy truce between
the miners and the coal operators.
As governor, Hatfield was able to secure passage of a number
of important measures, including establishment of the nation's
first workers' compensation program. Its passage brought
him a flurry of telegrams and letters from other
governors wanting a copy of the law. Today,
every state has a workers' comp program.
After his term as governor, Hatfield served as an army doctor during
World War I, and then practiced medicine in Huntington for the
next 40 years, interrupted by one term (1928-1934) in the
U.S. Senate. During his time in the Senate, he was
successful in securing a veterans
hospital for Huntington.
-----------------------------------------------------------
Note: This Article and picture appeared in the Herald-Dispatch Newspaper on Feb. 28, 2023.
-----------------------------------------------------------
[ Back ]