Remembering Jane Shepherd
------------------------------------------------------------------------------------------------------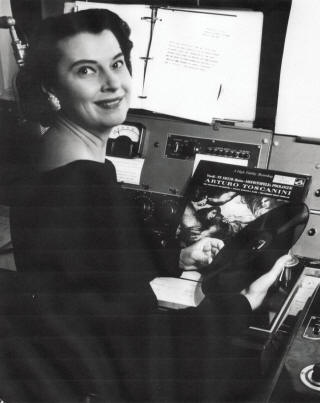 Marshall music professor and artist-in-residence Jane Hobson Shepherd was
a nationally recognized mezzo-soprano who sang more than 350 concert
dates in 44 of the 50 states and a number of cities in Canada.
------------------------------------------------------------------------------------------------------
HUNTINGTON ó Jane Shepherd (1918-1984) was born Flora Jane Boedeker at Murray, Nebraska.
At age 7, she began the piano training which was to carry her through
an associate degree at William Woods College in Fulton, Missouri;
a Diplome díExecution in Piano from the American Conservatory
in Fontainebleau, France; and bachelorís and masterís
degrees from the Cincinnati Conservatory of Music.
Encouraged to begin voice training, she completed four years at the
Juilliard School of Music in New York, culminating with a concert
at Town Hall in New York in 1946. With her career as a mezzo-
soprano launched, she took the stage name of Jane Hobson,
her grandmotherís name, and toured extensively, performing
with most of the nationís major orchestras.
She sang with the New York Philharmonic, with
Leopold Stokowski conducting at Carnegie
Hall, the NBC Symphony with Arturo
Toscanini and the Cleveland
Orchestra under the baton
of George Szell.
After her marriage to interior designer Robert Shepherd in 1950,
she made her home in Huntington, where she shared her musical
gift with her adopted city. She taught privately, hosted a local
classical music radio show and in 1958 joined the faculty of
Marshall College (now University), where she coached
many voice students until her retirement as professor
of music and artist-in-residence in 1983.
She was one of the founders of the Huntington Chamber
Orchestra and assisted the late Mrs. Walker Long
in organizing and presenting Huntington
auditions for the Metropolitan
Opera.
On her retirement from Marshall she said she was retiring
from teaching but would never retire from singing.
-----------------------------------------------------------
Note: This Article and picture appeared in the Herald-Dispatch Newspaper on June 29, 2021.
-----------------------------------------------------------
[ Back ]