Remembering Jesse Stuart
------------------------------------------------------------------------------------------------------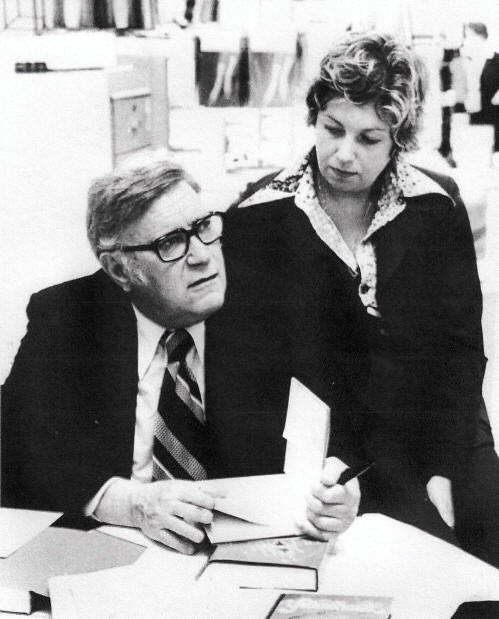 Famed Kentucky author Jesse Stuart is shown here with his daughter
Jane, also a writer, during one of his many autograph sessions at
the former Anderson-Newcomb Department
Store in downtown Huntington.
------------------------------------------------------------------------------------------------------
HUNTINGTON — In 1906, author Jesse Hilton Stuart was born in W-Hollow in Greenup County,
Kentucky, and lived there his whole life, except for his college years and later when he spent time
abroad. But his visits to Huntington and the Marshall University campus were so
frequent that many in the community looked on him as one of their own.
Mitchell Stuart, the future author's father, could neither read nor write,
and his mother, Martha, had only a second-grade education. But
they taught their two sons and three daughters to value
education, and all five children graduated from college.
Stuart graduated from Lincoln Memorial University in Harrogate,
Tennessee, and then taught school in Greenup, Kentucky.
Later he attended graduate school at Vanderbilt University
in Nashville. He then served as superintendent of the
Greenup County Schools before ending his teaching
career in favor of working full-time as a writer.
While still a college student, he began writing stories and poems
about the hill people in his section of Kentucky. Stuart's
parents were tenant farmers, and he grew up with a
strong appreciation of life lived close to the
soil and the hardships of rural poverty.
Stuart published his first book, "Harvest of Youth," a collection of poems,
in 1930 and after that published a book nearly every year until his death
in 1984. His books included more volumes of poetry, more than a
dozen novels and autobiographical works and a number of
highly regarded children's books. His published short
stories — in magazines and in book form —
numbered more than 500. For many years,
his stories regularly appeared
in Esquire magazine.
Today, Stuart is perhaps best known for his "Taps for Private
Tussie." An award-winning novel published in 1943, it
offered a satirical look at the New Deal's relief
efforts. Its selection by the Book-of-the-
Month Club helped it sell a million
copies in just two years.
The Jesse Stuart Foundation, headquartered in Ashland,
controls the rights to his literary works and is charged
with overseeing W-Hollow, which Stuart and his
wife, Naomi, donated to the Commonwealth
of Kentucky as a 700-acre nature preserve.
-----------------------------------------------------------
Note: This Article and picture appeared in the Herald-Dispatch Newspaper on Apr. 27, 2021.
-----------------------------------------------------------
[ Back ]