Remembering Joan Edwards
------------------------------------------------------------------------------------------------------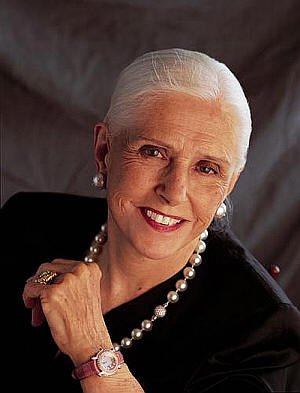 Marshall University has honored the generosity of the late
Joan Edwards by naming its football stadium, medical
school and performing arts center in her honor.
Courtesy Huntington Quarterly magazine
------------------------------------------------------------------------------------------------------
HUNTINGTON — Joan Edwards (1918-2006) was born Joan Cavill in London,
England, and at the age of 4 moved with her family to New Orleans. From an
early age, she could be heard singing around the house. By the time she
was 11 years old, she had caught the ear of a manager at WWL
Radio, who asked her to sing on his show. As a teenager,
she traveled the country, singing with
Clyde McCoy and his band.
Eventually, fate found her in Pittsburgh singing at the William Penn Hotel.
In the audience one evening was a young man from Huntington,
who was working at a division of his father's company —
the National Mattress Co. (Namaco). He asked
to meet the singer backstage. His
name was Jimmy Edwards.
The two soon were married at a small ceremony in Pittsburgh. Joan
inherited three children from her husband's first marriage. They
lived in Pittsburgh for a short time before Jimmy's father
summoned the newlyweds to return to Huntington.
Jimmy Edwards had always loved horses. Over the years,
that love became a virtual obsession. He progressed
from buying racehorses to buying race courses.
At one point, he owned 250 horses and four
race tracks. He died in 1991 at age 81.
Shortly after his death, his wife of 54 years called a news conference
and announced that as part of his will, she was presenting $1million
to the Marshall University School of Medicine, $1 million to the
Huntington Museum of Art, $2 million to the Episcopal
Church and $16 million to Cabell Huntington Hospital
for construction of an adult cancer center.
And that was just the start. Joan Edwards not only carried
out the generous bequests spelled out in her husband's
will, she ultimately donated millions more of her
own money to Marshall and other recipients.
"Jimmy had family here and he wanted to leave something behind,"
she explained. "I want to continue what he started." Ultimately,
their contributions totaled more than $65 million. Marshall
has honored her generosity by naming its football
stadium, medical school and performing
arts center in her honor.
Joan Edwards spent the last few days of her remarkable
life receiving treatment and care in the Edwards
Comprehensive Cancer Center she helped
create at Cabell Huntington Hospital.
-----------------------------------------------------------
Note: This Article and picture appeared in the Herald-Dispatch Newspaper on Jan. 17, 2023..
-----------------------------------------------------------
[ Back ]