Remembering Joan Hyldoft
------------------------------------------------------------------------------------------------------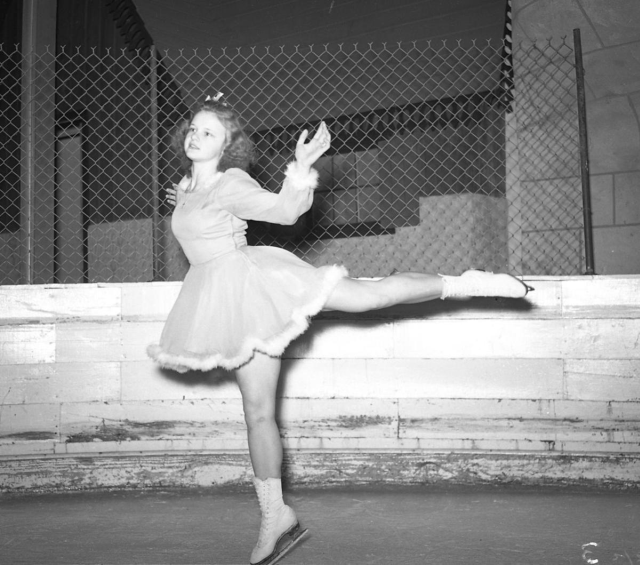 Huntington native Joan Hyldoft was an internationally famous ice skater.
This photograph was taken in 1942 when she was just 16.
That year saw her win a figure skating competition
in New York City, launching her career.
------------------------------------------------------------------------------------------------------
HUNTINGTON — Internationally famous ice skater Joan Hyldoft danced her way across
the world on silver skates — from her native Huntington to New York City
and then around the world. Along the way, she regularly received
standing ovations for her skill and grace on the ice.
The daughter of Mr. and Mrs. E.A. Hyldoft, she grew up on Huntington's Southside.
She began skating in 1940 at age 14, when Huntington opened its first ice rink.
She won competitions early on, capturing a figure skating championship
in New York City when she was just 16. She turned pro early, too.
She went on to become a headline performer in traveling "Holiday
on Ice" shows for years. But for her the highlight of her career
came in 1959 when "Holiday on Ice" became the first
American ice show to tour the Soviet Union. When
the show played Moscow, her starring role called
for her to do Tchaikovsky's "Nutcracker Suite."
Looking back, she said of that performance: "I thought to myself '
This is Russia, this is theirs. I can never do it well enough
before this audience.' " She was wrong. Her
performance brought the enthusiastic
audience to their feet.
Before the show's Moscow engagement was over, she had played to
thousands more — including Soviet Premier Nikita Khrushchev,
who made a surprise visit to one performance. He later
gave a backstage party for the show's cast.
Hyldoft retired from skating in 1967, and followed her parents
to Waco, Texas, where she died in 1986. She was 61.
-----------------------------------------------------------
Note: This Article and picture appeared in the Herald-Dispatch Newspaper on Aug. 3, 2021.
-----------------------------------------------------------
[ Back ]