Remembering Revella Hughes
------------------------------------------------------------------------------------------------------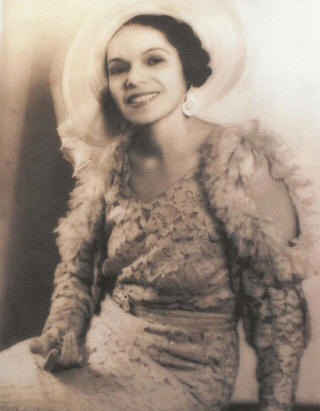 Courtesy of Marshall University Special Collections
------------------------------------------------------------------------------------------------------
HUNTINGTON — Revella Hughes (1895-1987) — the daughter of George W. Hughes,
who was Huntington's first Black postal worker, and his wife, Annie, a piano teacher
and seamstress — began playing the piano at age 5 and the violin at age 10.
Clearly she was destined for a musical career, and what a career it was.
She studied music at Hartshorn Memorial College in Richmond,
Virginia; Oberlin Conservatory in Oberlin, Ohio; and
Howard University in Washington, D.C.
Early on she had a promising concert career as a lyric soprano, but Broadway
beckoned her. She became the first female Broadway choral director when
Noble Sissle and Eubie Blake asked her to direct the chorus of the road
company of their hit show "Running Wild." Later she played the female
lead in James P. Johnson's "Runnin' Wild," which introduced the
Charleston dance. Both shows were all-Black musicals. She
also recorded for W.C. Handy's Black Swan records.
In 1932, she returned to Huntington to take care of her widowed mother.
As supervisor of music in the community's then-segregated Black
schools, she created the first band at Douglass High School.
When her mother died, Miss Hughes returned to New York,
where she developed and toured with "An Informal Hour
of Music" on the Hammond organ. She played East
Coast supper clubs and toured Europe and the
Middle East, performing in USO concerts
for members of the U.S. armed services.
She retired from full-time performing in 1955, but 25 years later staged a
final round of concerts, including an appearance at Radio City Music Hall.
Miss Hughes became Dr. Hughes when Marshall University
awarded her an honorary doctorate of music degree.
-----------------------------------------------------------
Note: This Article and picture appeared in the Herald-Dispatch Newspaper on Oct. 12, 2021.
-----------------------------------------------------------
[ Back ]