Remembering 'Bart' Andrews
------------------------------------------------------------------------------------------------------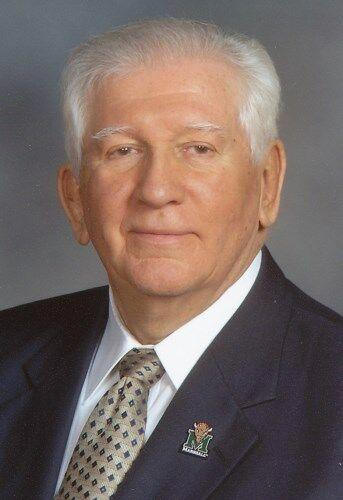 William B. "Bart" Andrews (1935-2016)
Courtesy of Marshall University
------------------------------------------------------------------------------------------------------
William B."Bart" Andrews was born in Huntington in 1935.
After graduating from Huntington High School, he majored
in business management at Marshall College
(now University), receiving
a B.S. degree in 1958.
Andrews began his business career as a salesman for the National Gypsum Co.,
resigning in 1961. He did so to open Danco Inc., a lumber and building
materials company, for Daniel Wagoner, whom he had met when
calling on him as a salesman for National Gypsum. During
Danco's 31 years of operation (1961-1992) he advanced
from manager to president and general manager
and eventually part-owner.
For years Andrews was involved with organizations connected
with the building business. He was a life director of the
Tri-State Homebuilders Association, a past state
president and director of the West Virginia
Builders Supply Association and a past
president of Tri-State Lumber
Dealers Association.
Long active in civic affairs, Andrews served as a past
director of the Tri-State Area Council,Boy Scouts
of America, and WPBY public television.
He was a member of the Fifth
Avenue Baptist Church.
A true "Son of Marshall," he was a loyal supporter of Marshall
academic and sports programs. He was a past president of
the Big Green Foundation, a director of the Marshall
University Foundation and held a life membership
in the MU Alumni Association. He was named
to the Marshall Colleges of Business in 1999.
After retiring from Danco in 1992, he and his wife Doris
spent several months each year traveling in their motor
home, the fall travels usually revolving around
the Marshall football schedule.
"Bart" Andrews died in 2016.
----------------------------------------------------------
Note: This Article and picture appeared in the Herald-Dispatch Newspaper on Aug. 29, 2023.
-----------------------------------------------------------
[ Back ]