Robert Hall Clothes
------------------------------------------------------------------------------------------------------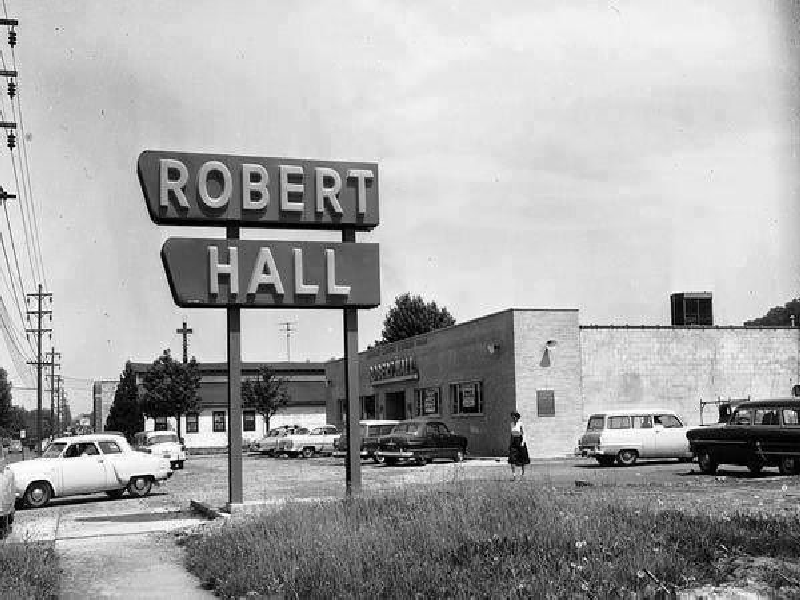 The Robert Hall clothing store operated at 2725 5yh. Ave. from the mid
1950s to 1977, when the chain filed for bankruptcy.
------------------------------------------------------------------------------------------------------
HUNTINGTON — Robert Hall Clothes, Inc., generally known simply as Robert Hall,
was a chain of retail stores that flourished circa 1938-1977.
According to a Time magazine story of 1949, the corporate name was a complete invention;
the actual founder and company head was a garment merchant by the name of
Jacob Schwab, who "plucked the name out of the air."
The chain started as a single store in Waterbury, Connecticut, in 1937.
Ultimately it grew to more than 350 warehouse-like
stores, located in 36 states.
Robert Hall was a pioneer of the low-overhead, large-facility ("big-box") merchandising
technique, and combined inexpensively made goods with extensive radio and
television advertising. Many Americans who grew up in the 1950s and '60s
recall the commercial jingles of the time. ("When the values go up, up,
up/And the prices go down, down, down/Robert Hall this season/
Will show you the reason/Low overheads - Low overheads.")
The Robert Hall store in Huntington opened at 2725 5th Ave.
in the mid 1950s. The company also operated stores
in Portsmouth, Ohio, and Morgantown.
In 1977, Robert Hall's parent company, United Merchants and Manufacturers,
filed for bankruptcy, citing losses from the Robert Hall chain.
In 1976, the Robert Hall stores were reported
to have lost $41 million.
After filing for bankruptcy, the company padlocked all of its stores in a surprise
move that immediately drew protests from the unions representing
the chain's 5,000 employees. The stores remained closed,
and their inventories were auctioned off.
Following the closure of the Robert Hall store in Huntington,
a toy store (House of Toys) opened in the former
clothing store's building. Since 1986, a Family
Dollar store has operated in the building.
-----------------------------------------------------------
Note: This Article and picture appeared in the Herald-Dispatch Newspaper on March 19, 2018.
-----------------------------------------------------------
[ Back ]