Robinson's Lakeside Inn
------------------------------------------------------------------------------------------------------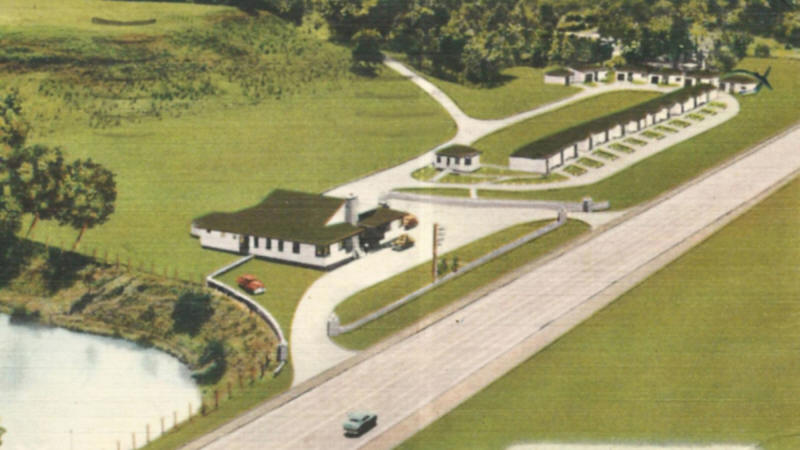 ------------------------------------------------------------------------------------------------------
HUNTINGTON - In 1948, Mr. and Mrs. Irvin Robinson opened a 19-cottage motor
court at 3325 U.S. Route 60 East, just a short drive from downtown Huntington.
In that era, before Interstate 64 was constructed, U.S. 60
was a busy east-west route for long-distance auto travelers,
and many stopped for the night at Robinson's Lakeside Inn. Some,
finding there was much to see and do in Huntington, lingered on for a while.
A description of the inn printed on this vintage postcard noted that each
"ultra modern" cottage included a lockable garage. The card also listed a number
of other features for each cottage: "Tile baths, showers and tubs. Beautyrest
mattresses double and twin beds. Mastic tile floors with rugs and telephones."
The inn's restaurant, the card noted, specialized "in aged steaks, chicken, turkey and country ham."
In fact, the restaurant proved popular not just with the inn's guests but with local diners as well.
In 1959, the Robinsons decided it was time to retire and so sold their inn to a Lexington, Kentucky, partnership.
A deed filed at the Cabell County Courthouse showed the purchase price for the property was $225,000.
The new owners announced they planned to demolish the inn and construct a new Holiday Inn.
Huntington businessman and civic leader Harold Frankel played an instrumental role in bringing
the new hotel to Huntington. He explained that he had met the inn's buyers at a
Lexington horse show and had interested them in investing in Huntington.
The old inn was razed and the new $1.5 million Holiday Inn welcomed its first guests in December 1960.
Harold Frankel and his wife Dodi bought the Route 60 Holiday Inn in 1965, and successfully operated
it for a number of years. In the years since, the property has had a number of different owners and hotel franchises.
In 2007, the property was revamped and re-opened as a 52-room Quality Inn. Today, it has an Econolodge franchise.
-----------------------------------------------------------
Note: This Article and picture appeared in the Herald-Dispatch Newspaper on Nov. 30 , 2015
-----------------------------------------------------------
[ Back ]