Robson-Prichard Building
------------------------------------------------------------------------------------------------------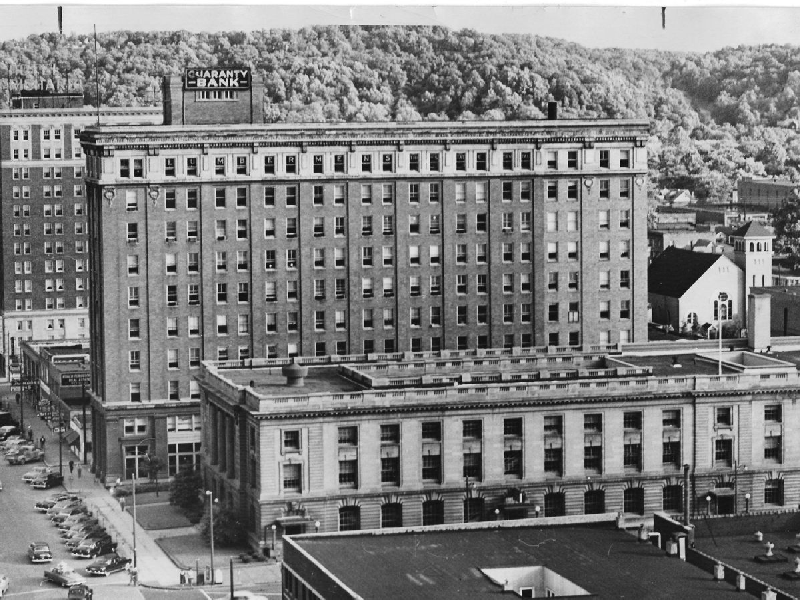 As the rooftop sign indicates, the Robson-Prichard Building -- later renamed the
Chafin Building -- was the long time home of Guaranity Bank & Trust Co.
------------------------------------------------------------------------------------------------------
HUNTINGTON -- In its long history, the 10-story office building at 517 9th St.,
in downtown Huntington has changed hands a number of times and had multiple names.
The buff-colored brick and stone building was built by wealthy businessman Fred C. Prichard and
his business partner H. A. Robson who, logically enough, named it the Robson-Prichard Building.
Built in two stages, the first in 1909 and the second in 1926, the narrow building fronts
for only 40 feet on 9th Street, then extends west for nearly a block.
Prichard was president of the Huntington Banking & Trust Co. which originally occupied the building's first floor.
The bank failed in the Great Depression of the early 1930s, and the Western & Southern Life Insurance Co.
foreclosed on the building. When the Guaranty Bank & Trust Co. was organized in 1939, it moved into the
former first-floor quarters of Huntington Banking & Trust. Later, Guaranty constructed a new,
modern bank building around the corner on 5th Avenue.
In 1946, former Logan County Sheriff Don Chafin bought the structure from Western & Southern and renamed
it the Chafin Building. Moving to Huntington, Chafin lived in a ranch-style penthouse he built on the building's roof.
The Chesapeake & Ohio Railway bought the building in 1956 so it could move some offices from its
overcrowded building at 4th Avenue and 11th Street. Later, C&O transferred many of its jobs out of
Huntington and, in 1976, sold the building to an out-of-town investor. After his death, his family
gave the building to the City of Huntington in return for certain tax considerations.
In 1996, the city turned over the building to local real estate developer John Hankins, who pledged
to spend at least $250,000 restoring it. A new Guaranty Bank was organized in 1999 and
took over the Chafin Building space that had been occupied by the original Guaranty.
The new Guaranty later merged with Sentry Bank to form First Sentry.
Today, the building's first-floor banking space is home to Fifth Third Bank.
-----------------------------------------------------------
Note: This Article and picture appeared in the Herald-Dispatch Newspaper on Jul. 06 , 2015
-----------------------------------------------------------
[ Back ]