Rooftop Christmas Tree
------------------------------------------------------------------------------------------------------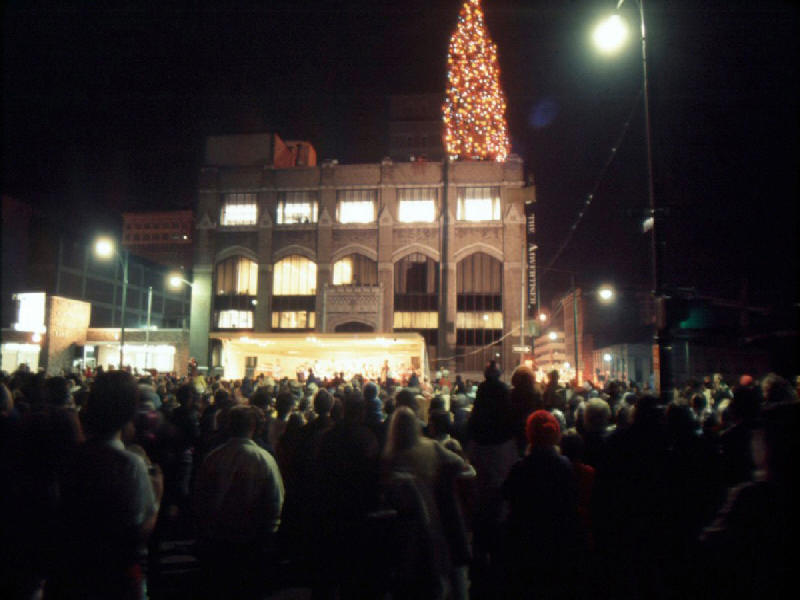 At Christmas time in 1972, a 43-foot evergreen was hoisted to the roof of the newspaper building
and then decorated with 1,200 lights. A crowed of 8,000 people turned out for
a ceremony the night the lights were turned on.
------------------------------------------------------------------------------------------------------
HUNTINGTON -- N.S. (Buddy) Hayden, president and publisher of The Herald-Dispatch and Advertiser
from 1972 to 1976, liked to do things in a big way.
As Christmas 1972 drew near, he shared his latest idea with his department heads and others at the
newspaper company. When they heard what he had in mind, some greeted it in silence,
others smiled and a couple of people may have quietly laughed.
They thought the boss was kidding.
He wasn't.
Hayden's idea: Find a giant evergreen, cut it, erect it on the roof of the newspaper
building at 5th Avenue and 10th Street, decorate it with Christmas lights and
invite the community to a tree lighting ceremony.
Soon an impressive 43-foot tree was located in Wayne County and felled,
then hoisted to the building's rooftop by a giant crane and decorated
with 1,200 lights. R.L. Inc. of Chesapeake, Ohio, handled the
arrangements for the tree, including its decoration.
On the evening of Nov. 24, 1972, police closed 5th Avenue between
9th and 11th streets to traffic, and a crowd of 6,000 people
turned out to witness the lighting of the rooftop tree.
Christmas music floated through the air. Carols were sung by the combined choirs of
Lincoln Junior, Vinson Junior, West Junior, Huntington High and Vinson High schools.
And a brass medley of Christmas music was presented by the combined high school
bands of Huntington High, Huntington East, Barboursville, Milton and
Vinson High schools. William C. Campbell, Huntington insurance
broker and well-known amateur golfer, provided 1,000
Christmas songbooks that were handed out to the crowd.
It was Huntington Mayor Gordon Millard who flipped the switch, setting
the tree brightly glowing with lights. The throng applauded, cheered
and whistled. Another round of carols by the combined
high school bands closed the holiday event.
-----------------------------------------------------------
Note: This Article and picture appeared in the Herald-Dispatch Newspaper on Dec. 25, 2017
-----------------------------------------------------------
[ Back ]