Roxy Theater
------------------------------------------------------------------------------------------------------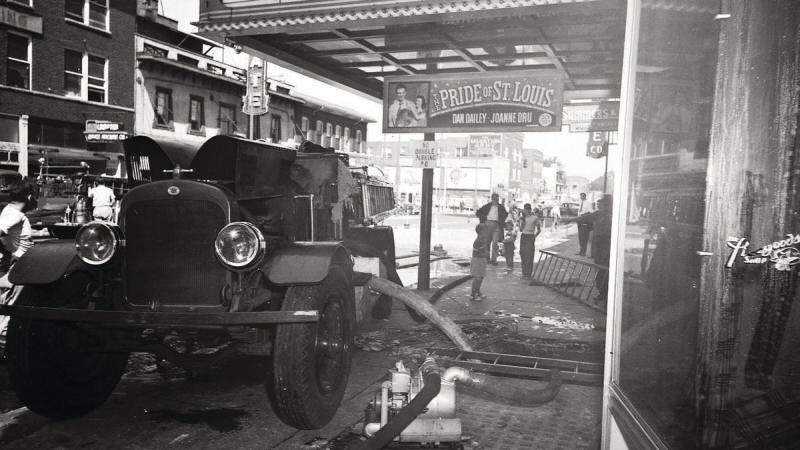 Fire struck the Roxy Theater on Aug. 25, 1952. In this photo, the former State Theater can be
glimpsed across 4th. Avenue.
------------------------------------------------------------------------------------------------------
HUNTINGTON -- In 1933, C. Bertram Hukle purchased the Strand Theater at 1037 4th Ave.
Once a popular spot with Huntington moviegoers, the Strand had closed.
Hukle, who owned a chain of regional theaters, gave the old theater
a complete renovation and a new name - the Roxy.
The renovated 900-seat theater, with new sound and projection equipment and a redecorated interior,
opened Aug. 31, 1933. The first feature was "A Bill of Divorcement," a drama starring John Barrymore
and Katherine Hepburn in her screen debut, a newsreel and selected short subjects.
In a newspaper ad, the theater's new management promised to give movie fans
"the maximum amount of entertainment at a minimum cost"
- 10 cents before 6 p.m. and 15 cents after 6 p.m.
In the late 1940s, the city imposed an amusement tax on Huntington's theaters.
Hukle lead a group of theater owners who successfully challenged the tax in
Cabell County Circuit Court. The city appealed the decision to the
West Virginia Supreme Court, but the high court affirmed
the lower court's ruling.
In its final years, the Roxy was generally showing double features.
When a fire struck the theater on Aug. 25, 1952, it was offering a double bill of "The Pride of St. Louis,"
a bio picture with Dan Dailey as baseball's famed Jerome "Dizzy" Dean, and "The First Time,"
a comedy with Robert Cummings and Barbara Hale.
Following the fire, the theater building became the home of City Savings and Loan,
which removed the theater's seats but retained its marquee. Later the former theater building
and several adjoining structures were demolished to make way for a municipal parking lot.
-----------------------------------------------------------
Note: This Article and picture appeared in the Herald-Dispatch Newspaper on July. 18, 2016
-----------------------------------------------------------
[ Back ]