Reich-Huntington Iron Works
------------------------------------------------------------------------------------------------------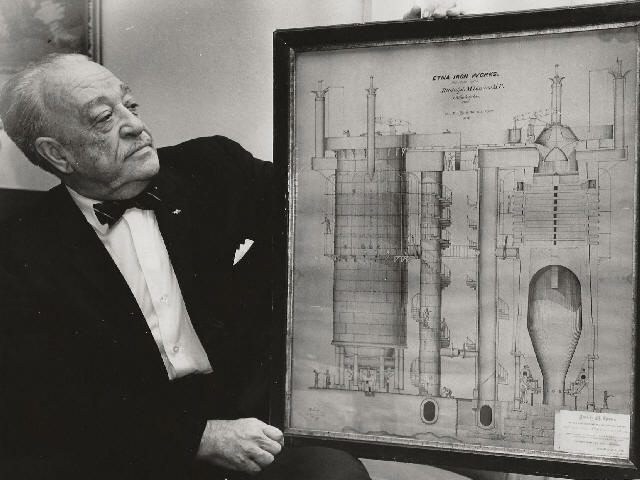 When E.A. Reich, the founder of Reich-Huntington Iron Works, retired, his
son J.J. Reich (pictured here) succeeded him as the company's president.
------------------------------------------------------------------------------------------------------
Editor's Note: This is the 363rd in a series of articles recalling vanished Huntington scenes.
HUNTINGTON — Born in Czechoslovakia in 1867, Emanuel A. Reich came to this
country about 1884, settling first in Zanesville, Ohio, where he worked as a
peddler. He later operated a general store in New Martinsville, W.Va.
He became a U.S. citizen in 1891. In 1902, he moved to Wheeling
and entered the iron and steel fabricating business.
Attracted by the city's economic and shipping advantages, he moved his company
to Huntington in 1916, establishing what became the Reich-Huntington Iron
Works, which manufactured steel that went into constructing a number of
downtown Huntington buildings and later specialized in components
for industrial smokestacks. The company's first plant was a small
building at 21st Street and 2nd Avenue. In 1947, the company
relocated to larger quarters at West 15th
Street and Virginia Avenue.
When E.A. Reich retired, his son, J. Jerome (Jerry) Reich,
succeeded him as the company's president.
The chief product manufactured at the company's plant was corsets for the tall
stacks that tower over industrial plants. "Corset" is a word generally
associated with women's apparel but, as J.J. Reich explained in
a 1956 interview with the Huntington Advertiser, the corsets his
company produced were installed in giant industrial stacks
that could tower 500, 600 or even 700 feet in the air.
The chimney a passerby sees is only the outside shell, he said. Inside is the
stack that carries the smoke, fumes and gases from the furnace at its
base. To make sure that the stresses created in such a lofty
structure are properly distributed and confined, the inside
lining of the chimney needs bands of iron or steel over
its outer circumference. These are the corsets
the Reich plant produced.
E. A. Reich died in 1965, and his son J.J. Reich died in 1968.
According to records in the West Virginia Secretary of
State's office, Reich-Huntington Iron Works
went out of business in 1971.
-----------------------------------------------------------
Note: This Article and picture appeared in the Herald-Dispatch Newspaper on Oct. 27, 2020.
-----------------------------------------------------------
[ Back ]