S. P. Brown Company
------------------------------------------------------------------------------------------------------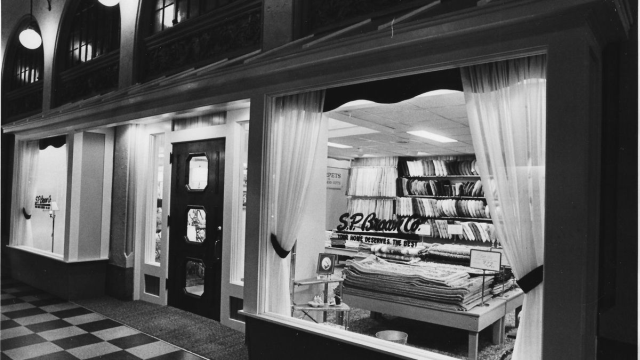 In 1977, longtime local business S. P. Brown moved to a new location
in the Huntington Arcade.
------------------------------------------------------------------------------------------------------
HUNTINGTON --After 70 years, 35 of them spent in Huntington, the SP Brown home furnishings shop closed its doors in 1987.
Owner Nancy Veith told The Herald-Dispatch it felt like someone close to her had died.
SP Brown once was a 20-store chain. When Veith began working for then-owner David O. Thompson in 1950, she was in her 20s.
When Thompson died in 1982, she had already been running the store for about five years. She became the new owner in 1984.
In 1977, urban renewal forced the store from its longtime location at 1039 4th Ave.
It moved to a new home in the Huntington Arcade at 945 4th Ave. The new 3,600-square-foot location offered drapery fabrics,
area rugs, wallpaper and other home furnishings on the main floor and lamps, carpeting, gifts and other items in an upstairs gallery.
The store did well in the Arcade, Veith said. "Then the bricks fell."
In May of 1987, a shower of bricks fell from the old bank building next door and came crashing through the Arcade roof,
breaking a water line and setting off the sprinkler system, forcing the badly damaged shop to close.
Veith opened a temporary showroom on the seventh floor of the Morris Building at 401 9th St. But without walk-in traffic the temporary
location didn't generate enough revenue to keep the business going, much less repair and re-stock the costly inventory at the
Arcade store. So Veith reluctantly announced the firm's closure.
-----------------------------------------------------------
Note: This Article and picture appeared in the Herald-Dispatch Newspaper on Sep. 5, 2016
-----------------------------------------------------------
[ Back ]