Sadie Hawkins Day
------------------------------------------------------------------------------------------------------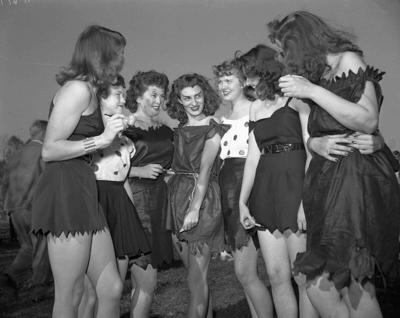 Dressed like Daisy Mae from the "Li'l Abner" comic strip, a group of Marshall coeds
are ready for the big Sadie Hawkins Day race. The photo doesn't carry
a date but was likely taken in the late 1940s or early 1950s.
File photo | The Herald-Dispatch
------------------------------------------------------------------------------------------------------
Al Capp (1909-1979) was the newspaper cartoonist who
created the enormously popular "Li'l Abner" comic strip
Set in the fictitious backwoods community of Dogpatch, U.S.A.,
the humorous strip's stars were Li'l Abner, a handsome
but shy and awkward lad, and Daisy Mae, a buxom
beauty who was determined to get Abner to
marry her (it took her 17 years to do so,
but eventually she convinced him).
In November 1937, Capp came up with a storyline which involved
a gal named Sadie Hawkins who was so homely that she was
still unmarried at 35. Her father worried that he would
have her living under his roof for the rest of her life.
So he gathered all the bachelors of the town together
and set up a sort of race, with the men running
ahead of Sadie. The one she finally caught
would have to marry her.
The Sadie Hawkins story struck a cord with many readers, who
bombarded Capp with fan mail. Apparently he originally
intended Sadie Hawkins Day to be a one-time gag, but
given the public's response he revisited the storyline
in November of 1938 and every year thereafter
until he retired the strip shortly
before his death.
And in a development that nobody could have seen coming,
students at colleges across the nation started honoring the
idea of gender role reversal by holding Sadie Hawkins
dances and other events. At one point Life magazine
published a two-page spread with the headline,
"On Sadie Hawkins Day Girls Chase
Boys in 201 Colleges."
Marshall College (now University) was one of the many
campuses that joined in the fun, with coeds dressed
like Daisy Mae chasing hapless males along the
school's intramural track. If a coed caught a
guy he was "required" to take her to the
upcoming Sadie Hawkins dance.
-----------------------------------------------------------
Note: This Article and picture appeared in the Herald-Dispatch Newspaper on Aug. 14, 2023.
-----------------------------------------------------------
[ Back ]