Schiff's Shoes
------------------------------------------------------------------------------------------------------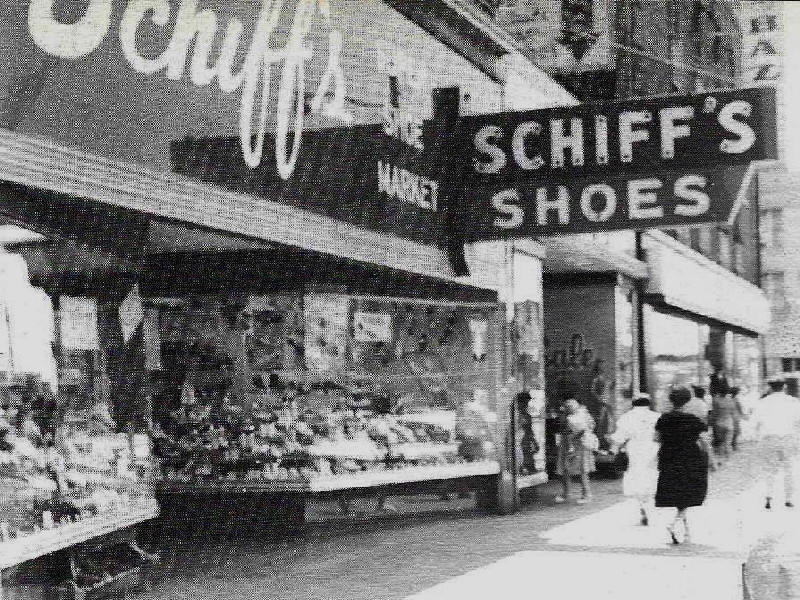 The Schiff's Shoes store at 815-17 3rd Ave. opened in 1948 and closed in the mid-1970s.
------------------------------------------------------------------------------------------------------
HUNTINGTON — Born in Russian Lithuania, Robert W. Schiff received a Talmudic education before
coming to the United States in 1905. He recalled in 1951 that he had planned to resume his studies
in Jewish law, but found himself instead as a clerk in a shoe store. He tried
various businesses in Cincinnati, Dallas and Dayton, Ohio.
As a partner in a shoe store in Marion, Ohio, he envisioned the possibility of
a nationwide chain of shoe stores. Moving to Columbus, Ohio,
he then opened the first of what ultimately would be
hundreds of shoe stores in 1920.
The business he founded as the Schiff Shoe Co. grew into the giant Shoe Corporation
of America (SCOA), which ultimately employed 10,000 people in 1,000
stores and nine manufacturing plants. Schiff retired as SCOA
chairman in 1968 and died in 1971 at age 84.
Schiff built his company on a successful combination of centralized purchasing from
manufacturers but individualized operation of the local stores. His company
operated stores under a variety of names, including Schiff's Shoes,
which specialized in medium- and lower-priced shoes.
Over the years, Huntington had three Schiff's shoe stores.
The first store, located at 324 9th St., identified itself as the Schiff Beautiful
Family Shoe Store. The store had a light blue glass front and what
management said was the first aluminum roll-up awning
in the city. The store opened with eight employees.
A second store opened at 815-17 3rd Ave. in 1948. The property, formerly
occupied by Leeds Inc., was owned by Walter H. Lewis, from whom
a 10-year lease was obtained. At first, the 9th Street store
remained open but before long it was closed.
In 1959, a Schiff shoe store opened at the newly developed
Eastern Heights Shopping Center on U.S. 60 East.
Both the 3rd Avenue store and the Eastern Heights store closed in the mid-1970s.
-----------------------------------------------------------
Note: This Article and picture appeared in the Herald-Dispatch Newspaper on July 23, 2018.
-----------------------------------------------------------
[ Back ]