Security Bank
------------------------------------------------------------------------------------------------------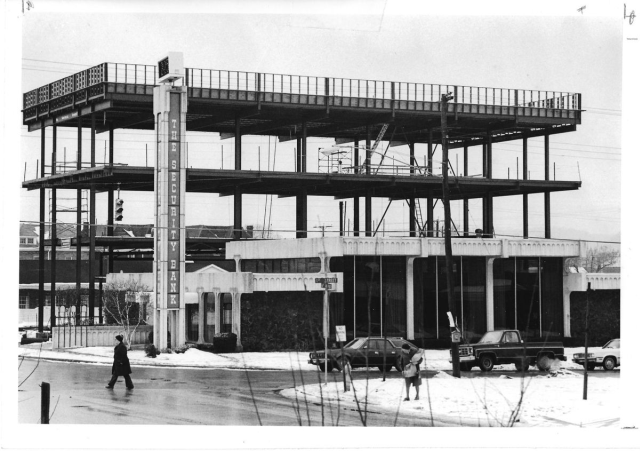 ------------------------------------------------------------------------------------------------------
HUNTINGTON — One day in 1955, Norville Frazier, an investment builder, and Daniel Wagoner,
secretary of Wagoner Brothers, a supply firm, were talking about West Huntington.
The two men concluded that something the neighborhood really needed
was a bank — and then they vowed to make that happen.
The following year, in July 1956, Security Bank opened its doors in a former supermarket
at 1403 Washington Ave. Veteran banker Francis J. Price was installed as president
of the new venture. Fraser was vice president and Wagoner
a member of the board of directors.
In 1963, Robert H. Beymer was named president of Security. Then 34 years old,
Beymer became one of the youngest bank presidents in West Virginia.
With Beymer at the helm, the young bank made a bold move in 1965 when it
purchased property on the northwest corner of 6th Avenue and 1st Street
and began construction of a strikingly modern building. Erected by the
Neighborgall Construction Co., the new building opened in 1965.
A decade later, in 1976, Security constructed a $3 million expansion that
included a three-story addition to the main bank and two-story drive-in.
In 1983, One Valley Bancorp, the state's largest banking company, paid $9.9 million for
Security's 110,000 shares of stock. "There are different owners, but nothing will
change." Beymer told The Herald-Dispatch. "It stays the Security Bank,
and the same people will run it." Fours later, in 1987, the Security
name came off the big sign outside the bank when One Valley
decided that all its affiliated banks should
display the same name.
In 2000, in a $1.2 billion deal, One Valley was acquired by
BB&T Corp. of Winston-Salem. North Carolina, and the
towering sign at the 1st Street bank was changed again.
-----------------------------------------------------------
Note: This Article and picture appeared in the Herald-Dispatch Newspaper on May 22, 2017.
-----------------------------------------------------------
[ Back ]