Seventh Avenue Methodist
------------------------------------------------------------------------------------------------------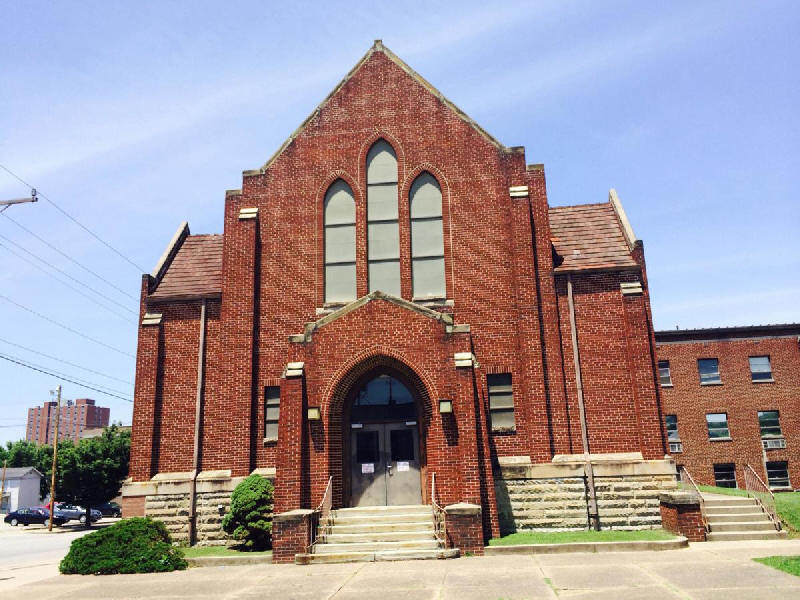 The former Seventh Avenue Methodist Church building on the northeast corner of 7th Avenue
and 20th street is now owned by Mountwest Community and Technical College
------------------------------------------------------------------------------------------------------
HUNTINGTON — In 1889, a meeting was called for the purpose of organizing a Methodist
church in East Huntington. A dozen or so people first met in a building at 4th
Avenue and 19th Street and later in another building on the
southeast corner of 7th Avenue and 20th Street.
In 1891, the group purchased from Collis P. Huntington's Central Land Company a lot
across the street, on the northeast corner of 7th Avenue and 20th Street, and there
built a small frame structure, which they named the "Seventh Avenue
Methodist Church." It would be the first of four buildings
the church would build on the corner site.
The congregation grew and by 1908 it was necessary to build a new and larger
building. By 1925, the congregation had again outgrown its facilities and
so a third building was built. In 1939, a fire destroyed it, with the
exception of some bricks that were salvaged. Members of the
congregation spent many evenings cleaning and dressing
the bricks so they could be used in building
a fourth building for the church.
A 1994 merger of Methodist congregations left the 7th Avenue building surplus
and unused. In 1996, it was purchased by Marshall University, which used
it to house its community college health sciences programs. When
Marshall and what became Mountwest Community and
Technical College were separated, the former
church building was transferred to
Mountwest as part of the
separation agreement.
Mountwest continued to house its health sciences faculty and programs
in the building until 2013, when they were moved to the
college's new building on 5th Street Road. Since
then, Mountwest has used the building
for storage.
"It needs work," said Mountwest President Keith Cotroneo after he
recently visited and inspected it. "We hope to rehab it for a
more useful, but yet undetermined, purpose."
-----------------------------------------------------------
Note: This Article and picture appeared in the Herald-Dispatch Newspaper on Sep. 3, 2018.
-----------------------------------------------------------
[ Back ]