Shank's Tire Service
------------------------------------------------------------------------------------------------------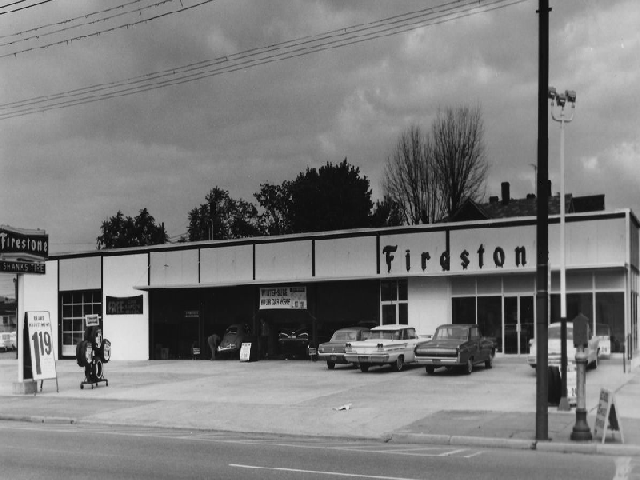 When Sank's Tire Service closed in 1983 it wrote an end to one of
Huntington's oldest Home owned and and operated businesses.
------------------------------------------------------------------------------------------------------
HUNTINGTON -- In 1919, Herman Shank, a mechanic, opened Shank's Auto Shop at
1120 3rd Ave., where he sold Saxon, Mitchell and Astor automobiles,
along with Hood and G&C tires.
The store soon stopped selling automobiles but went on selling tires at its original
location until 1964 when it moved to a new, modern building at 330 20th St.
The tire store ultimately became a subsidiary of the Shank Oil Co.,
headed by Joseph Shank Sr. The store was operated by his sons,
Richard and Joe Shank Jr.
An independent retailer, Shank's Tire Service was selling Firestone brand tires
when it moved into its new 20th Street building. Later it would sell Michelin,
General and Remington tires. In addition to selling tires, the store offered a
wide variety of automotive services, including retreading, brake
service and front end alignment, along with accessories
such as batteries, mufflers and tailpipes.
When Shank's Tire Service closed in October 1983 it wrote an end to one of
Huntington's oldest home-owned and operated businesses. Shank's was
said to be one of the nation's oldest independent tire retailers.
In Washington, a spokesman for the National Tire Dealers and Retreaders Association,
asked to comment on the closing, said the nation's sagging economy had hit the
tire business hard. Nationwide, he said, the past year had seen more
than 250 tire dealers either go out of business
or be purchased by larger companies.
Today, the site of the Shank family's tire store is one of the many business and
residential properties that were cleared to make way for construction
of Marshall University's Joan C. Edwards Stadium.
-----------------------------------------------------------
Note: This Article and picture appeared in the Herald-Dispatch Newspaper on Oct. 9, 2017
-----------------------------------------------------------
[ Back ]