Simms Elementary School
------------------------------------------------------------------------------------------------------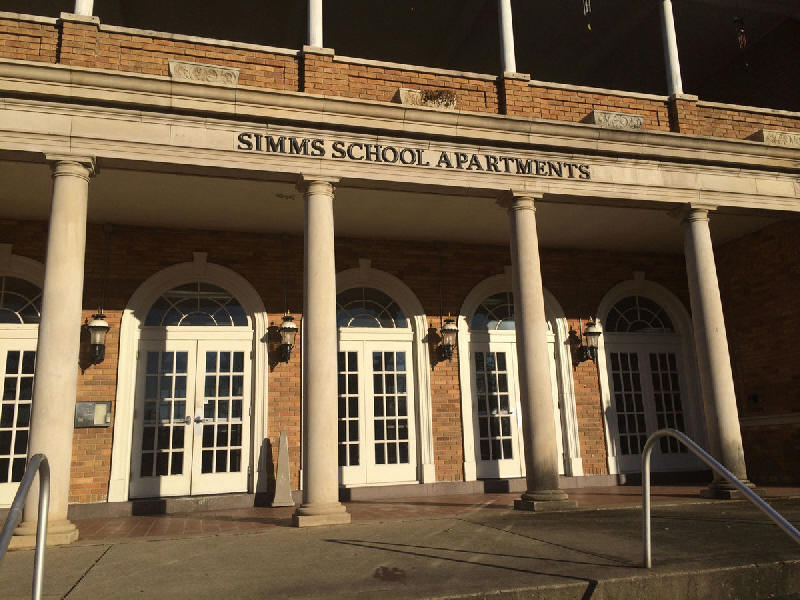 Built in 1919-20, Simms Elementary School was closed in 1981-82.
It now houses 20 apartment for the eiderly.
------------------------------------------------------------------------------------------------------
HUNTINGTON -- Simms Elementary School, at 1680 11th Ave., served Huntington's Fairfield
West Neighborhood as an elementary school for more than 60 years.
The original school building was built in 1899. In 1907 it was named for Henry Clay Simms a year
after his death. Simms was a prominent Huntington attorney and a member of the Simms and
Enslow law firm. Among the firm's clients was the Chesapeake & Ohio Railway.
Simms had also served on Huntington's first school board in 1889.
In 1919, the school board authorized its Committee on Buildings and Grounds to purchase an
additional lot for a $4,740 expansion of Simms School. Huntington architect Richard M. Bates
(1887-1948) was hired to design the expansion. In the 1920s, Bates designed a number
of banks, schools, churches and other public buildings in southern West Virginia,
For Simms School, he designed an impressive two-story, brick and steel frame structure in the
Neoclassical style of architecture popular at the time of its construction (1919-20). The
building has a unique center limestone colonnade entrance, and an open second-story
porch. Its fine Neoclassical details and unusual colonnade entrance made it stand
out from other schools being built in the community at that time and made it a
predominant feature in the Fairfield West neighborhood, which
was primarily laid out and developed in the 1920s.
In 1964, an addition housing a cafeteria and gymnasium was designed by
Huntington architect Albert F. Tucker and constructed
on the west side of the school.
Simms School was closed in 1981-82. It was listed on the National Register of Historic
Places in 1997. Remodeled that year in a project partially funded with a $200,000
grant from the Appalachian Regional Commission, it now
houses 20 apartments for the elderly.
-----------------------------------------------------------
Note: This Article and picture appeared in the Herald-Dispatch Newspaper on Jan. 1, 2018.
-----------------------------------------------------------
[ Back ]