St. Cloud Fire Station
------------------------------------------------------------------------------------------------------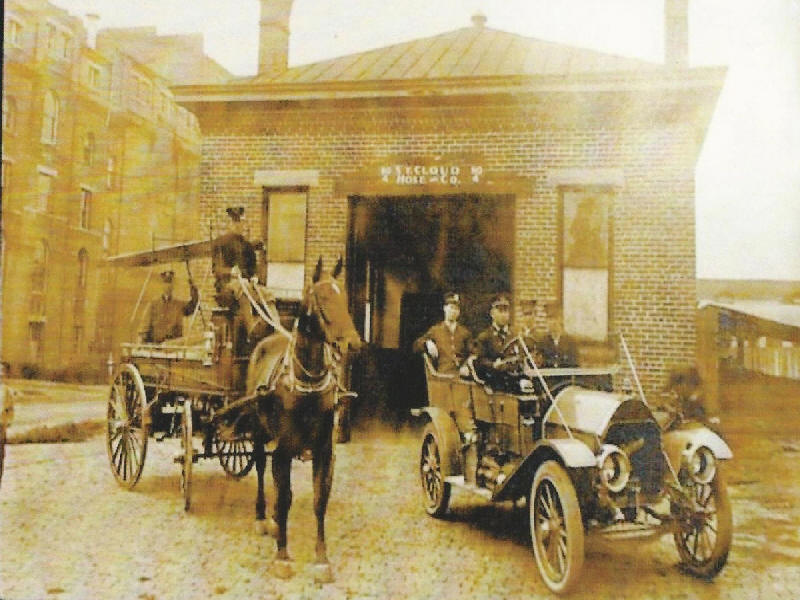 The former St. Cloud Fire Station was in service for nearly 100 yaers.
------------------------------------------------------------------------------------------------------
HUNTINGTON -- More than a century ago, when Huntington's Central City neighborhood was
still a community all its own, the little red brick building on the northwest corner of
Madison Avenue and W. 14th Street housed the St. Cloud Fire Station. The building
was built as a Town Hall in 1902 and later was converted to accommodate the fire station.
The photo accompanying this article is thought to date from 1905. It shows a horse-drawn
hose wagon and one of the new-fangled motor cars then coming into vogue.
When, in 1909, the City of Huntington annexed Central City and its 5,000 residents, the Central City
station became part of the Huntington Fire Department and, incredibly, remained in service
for nearly 100 years. In 2004, a new modern station finally was built nearby.
The late John Gallagher, Huntington's longtime fire chief, often reminisced how as a young boy he
liked to go to the St. Cloud Station to watch the antics of Maude and Queen, the two highly trained
horses that pulled the station's equipment. The young Gallagher was fascinated by the way the
animals knew exactly what to do when the fire bells rang. They would immediately step in
front of the fire wagons and wait to be harnessed, and then gallop out the station door.
It wasn't until 1926 that the Huntington Fire Department retired the last of its horses in favor of
motor trucks. (The St. Cloud horses might have been gone but they left behind
their teeth marks on the St. Cloud Station's window sills.)
Another historic structure can be seen in this photo of the St. Cloud Station. At the left side of the
photo can be glimpsed part of the Fesenmier Brewery. The brewery closed in 1971 and
was demolished the following year to make way for a shopping center parking lot.
After the 2004 construction of the new fire station, the old St. Cloud station was used to house
the City of Huntington's sign shop. Still standing, the former station is now privately owned.
-----------------------------------------------------------
Note: This Article and picture appeared in the Herald-Dispatch Newspaper on Oct. 26 , 2015
-----------------------------------------------------------
[ Back ]