Star Furniture Company
------------------------------------------------------------------------------------------------------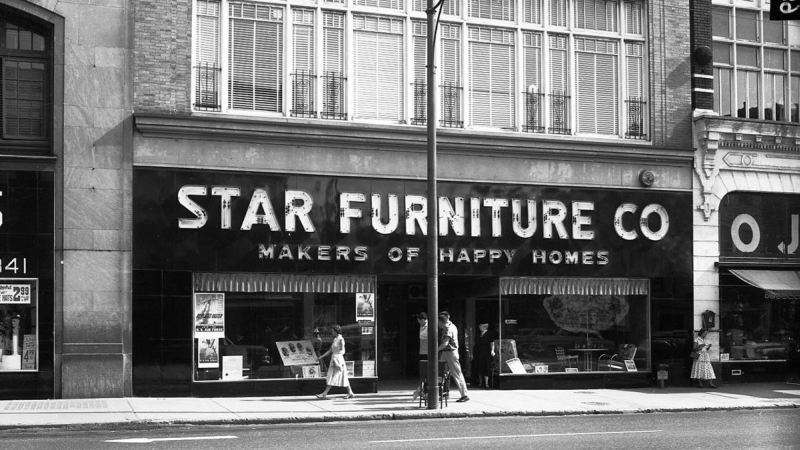 Star Furniture Company at 839 4th. Ave., is now occupied by Hibachi Japanese Steakhouse.
------------------------------------------------------------------------------------------------------
HUNTINGTON -- For more than 70 years, Star Furniture Co. was a popular place
for Huntington area residents looking to furnish their homes.
The company was founded in 1912 by S.J. Glick and was purchased in 1920 by his brother, Samuel H. Glick, whose
sons - Lewis, Robert, Jack and Max Glick - later joined the business. Still later, the next generation of the
Glick family, William and David, followed suit.
Steadily growing, Star Furniture ultimately became one of the largest and most successful furniture
businesses in West Virginia. Over the years, the company operated stores in a number of locations.
In 1985, it was operating its flagship store at 829 4th Ave., another store next door at 831 4th Ave.,
Star's Warehouse Showroom at 2445 3rd Ave. and a warehouse at 8th Avenue and 15th Street.
In August, 1985, Robert Glick, the company's secretary-treasurer, announced that after 73 years
Star's was closing its doors. For five years, he said, the store had struggled with "high interest
rates and adverse economic conditions" and "could not continue to lose money."
Today, family-owned furniture stores are a thing of the past,
with big-box chains dominating the retail furniture business.
Star's flagship store building on 4th Avenue is now occupied by the Hibachi restaurant.
The building next door, an O.J. Morrison's store before Star's took it over, was later home
to the Renaissance Book Store. Today's, it's been remodeled into residential condos.
-----------------------------------------------------------
Note: This Article and picture appeared in the Herald-Dispatch Newspaper on Feb. 14, 2016
-----------------------------------------------------------
[ Back ]