Stone Lodge Motel
------------------------------------------------------------------------------------------------------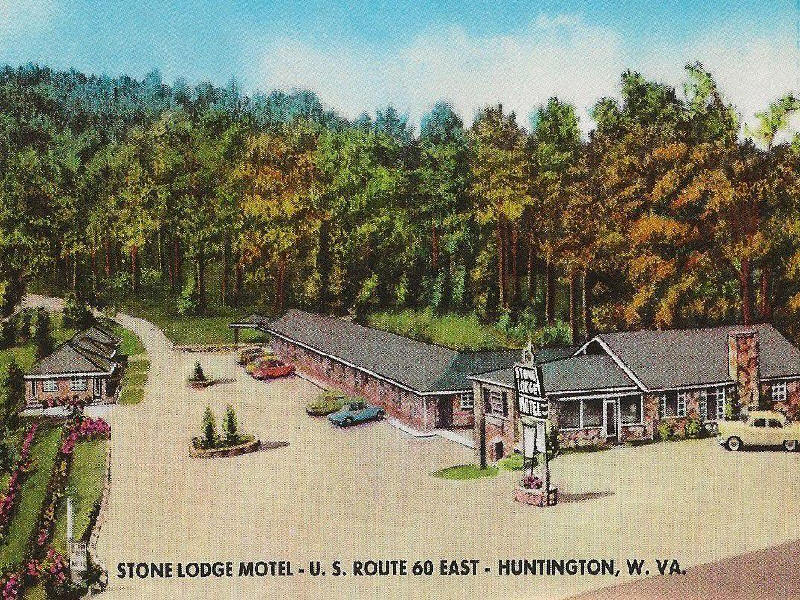 Paul M. Taylor and his wife, Dilla, opened their Stone Lodge Motel on U.S, 60 East in 1949.
------------------------------------------------------------------------------------------------------
HUNTINGTON — In the 1950s, before Holiday Inn and other big chains
came to dominate roadside lodging, many travelers were welcomed
by "mom and pop" operations such as the Stone Lodge Motel.
Located at 5600 U.S. 60 East, about seven miles from downtown
Huntington, the Stone Lodge was opened in 1949 by
Paul M. Taylor and his wife, Dilla.
A message, printed on the back of an undated souvenir postcard of
the motel, boasted of its amenities: "30 modern units … Rooms
air-conditioned, ceramic tile baths, tub and shower,
foam rubber mattresses. Free radios. Some TV."
"Free radios. Some TV"? It was a different era.
In 1955, Taylor filled out a biographical form for The Herald-Dispatch
where he wrote that he and his wife were "Proud possessors of
membership in the Quality Courts United motel organization."
By 1961, the Stone Lodge had been expanded to 72 rooms, and
had added a restaurant and swimming pool. That year saw
the Taylors sell their motel to a New York investment
concern which four years later re-sold it to a group
of local businessmen. The group included
Jack Booten, who owned and operated
the nearby Gateway Inn.
In the 1970s, the Mill Run club at the Stone Lodge was a popular
nightspot. In 1998, Ming's Restaurant moved to the Stone
Lodge from its long-time home at the former Hotel
Frederick in downtown Huntington. The
popular eatery closed in 2009.
In 2010, the Stone Lodge – which by then had expanded to 120
rooms and 17 cottages – was purchased by the Prestera
Center for Mental Health. The purchase enabled
Prestera to consolidate many of its programs
into a campus-like setting.
-----------------------------------------------------------
Note: This Article and picture appeared in the Herald-Dispatch Newspaper on Oct. 8, 2019
-----------------------------------------------------------
[ Back ]