Texaco Stations
------------------------------------------------------------------------------------------------------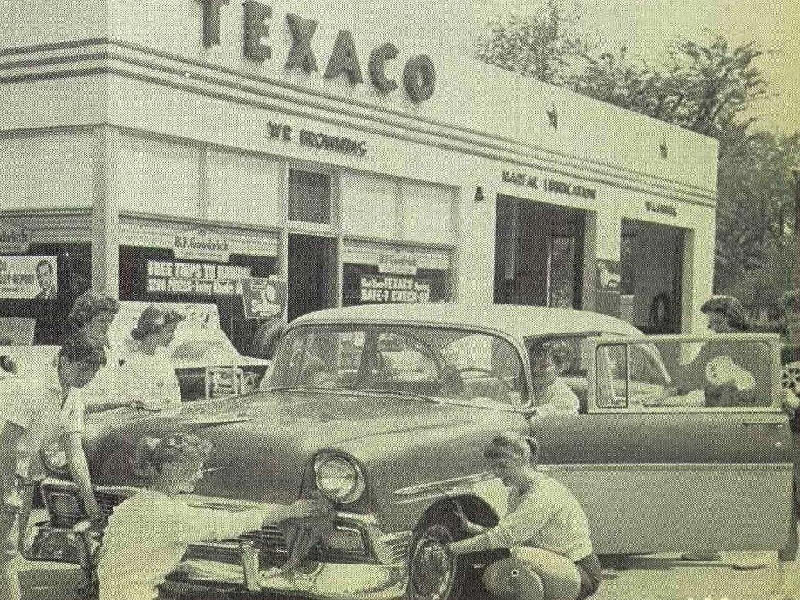 ------------------------------------------------------------------------------------------------------
HUNTINGTON — The Texas Company, better known as Texaco, was founded in 1901
at Beaumont, Texas, upon the discovery of the vast oil field at Spindletop.
For many years, Texaco was the only company selling gasoline under the same brand
name ("Sky Chief")
in all 50 U.S, states, as well as Canada, making it the most truly national brand among
its competitors. It was also one of the Seven Sisters, a group of companies that
dominated the global petroleum industry from the mid-1940s to the 1970s.
Texaco was an early television sponsor with its Texaco Star Theater, featuring comic
Milton Berle, which debuted in 1948. Each week's show opened with a quartet
of men, clad in service station outfits, singing: "We're the men of Texaco. We
work from Maine to Mexico. There's nothing like this Texaco of ours!"
Berle's program was broadcast in the same time slot as Fulton J.
Sheen's program for a while, thus leading to Berle's
oft-quoted quip, "We both have the
same boss – Sky Chief!"
Texaco also was long associated with the Metropolitan Opera as
the sole sponsor of its Saturday radio broadcasts for 63 years.
For many years, Texaco service stations were a familiar part of the Huntington
area landscape. But in the late 1970s, the company began a reorganization
plan that over a period of years saw it withdraw
totally or partially from 18 states.
In 1980, Texaco announced that as part of its reorganization plan it was
withdrawing from 44 West Virginia counties, including Cabell and
Wayne. At that time, the company had four stations
in Huntington and one in Wayne.
"We're really the only company marketing in all 50 states, and we've
found ourselves spread too thin," a company spokesman
told the Herald-Dispatch, adding that it was "an
inefficient way of doing business."
Texaco remained an independent company until 2001
when it was merged into Chevron Corporation.
-----------------------------------------------------------
Note: This Article and picture appeared in the Herald-Dispatch Newspaper on Dec. 17, 2018
-----------------------------------------------------------
[ Back ]