Thabit's Restaurant
------------------------------------------------------------------------------------------------------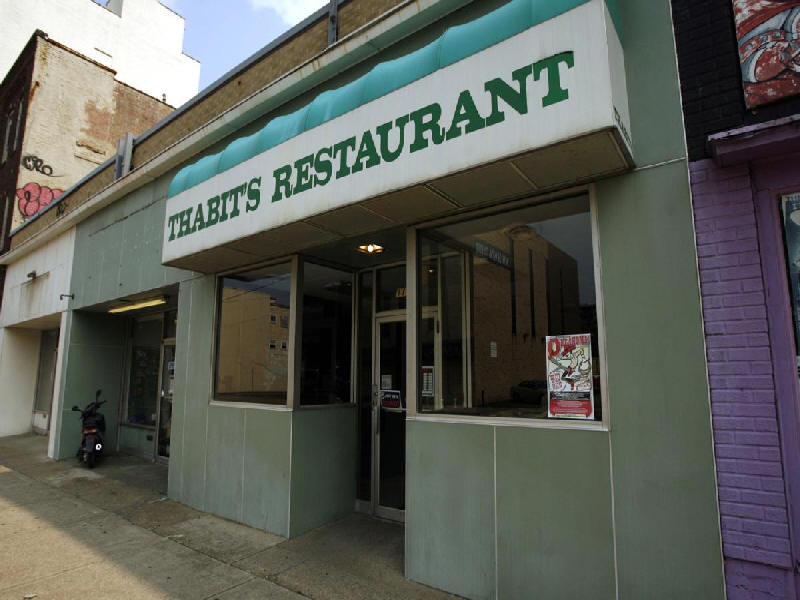 Rebuilt after a spectacular fire in 1969. Thabit's Restaurant closed in 2007.
------------------------------------------------------------------------------------------------------
HUNTINGTON — In 1914, Mike Thabit, who came to the United States from Lebanon, opened a
small restaurant on the corner of 3rd Avenue and 8th Street in downtown Huntington. A few
years later, he moved to larger quarters on 8th Street where he operated the Aster
Restaurant and Candy Co., selling a variety of homemade candies.
In 1946, the Aster Restaurant moved to 1117 4th Ave.
and became Thabit's Restaurant.
For more than 60 years, Thabit's would be a landmark eatery in Huntington.
Years passed and times changed, but Thabit's didn't. Instead it kept right
on doing what it had always done - serving tasty homemade meals
at reasonable prices and, in the process, attracting a loyal band
of customers. A group of attorneys, downtown business
people and others regularly gahered at their favorite
table at Thabit's to enjoy their lunch and
talk over the events of the day.
When the building burned in a spectacular fire in 1969, the Thabit
family rebuilt, but made sure the new restaurant retained the
1950s look that was a big part of its charm.
For years, Lanese Thabit worked alongside her husband. In a 1999 interview,
she shared the secret to the restaurant's long-running success: "We cater to
customers just like a family would. If their food isn't right, I tell them
to send it back. I want to give customers what they want."
Daughter Andrea Thabit was born into the business and began working at the
restaurant full-time shortly before her father's death. Her brother Louis
helped her out from time to time. In 2007, she decided it was
time to retire, and so the doors at Thabit's
were closed for the last time.
-----------------------------------------------------------
Note: This Article and picture appeared in the Herald-Dispatch Newspaper on May 7, 2018.
-----------------------------------------------------------
[ Back ]