The Abbott Theater
------------------------------------------------------------------------------------------------------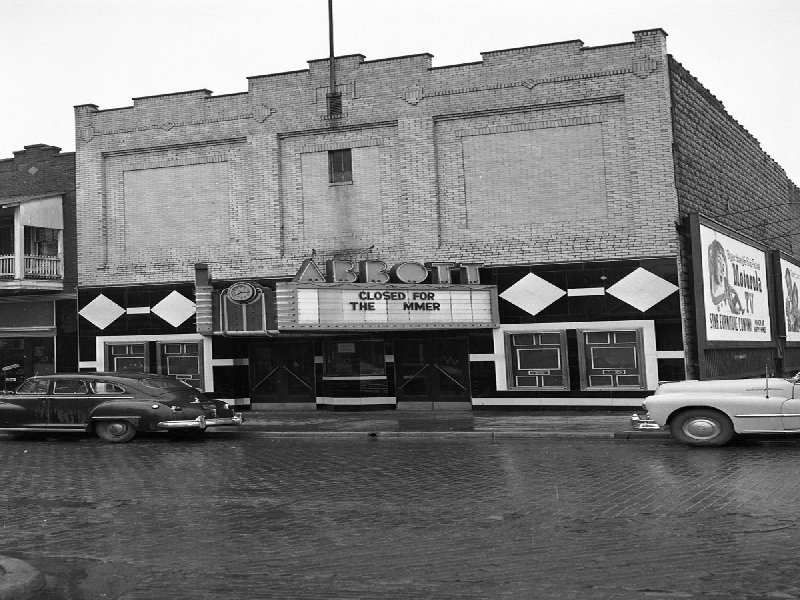 Opened as a movie house in 1938, the Abbott Theater was later home to
Huntington Community Players.
------------------------------------------------------------------------------------------------------
HUNTINGTON — The Abbott Theater was built in 1938 at a cost of $1,700 on a lot purchased by W.E.
Neal from the West End Realty Co. (Obviously, constructing buildings was a great deal cheaper back then.)
The new theater at 420 West 14th Street was named for Darwin E. Abbott, a commanding figure in the
Central City neighborhood. Abbott was a 17-year-old boy when he arrived in the then-new city of
Huntington in 1873. He became a self-taught photographer, opened a successful photo studio
and later built a picture frame plant in Central City that was one of the young city's
most important manufacturing enterprises. He died in 1942.
The 1930s and 1940s were the heyday for neighborhood movie house such as the Abbott.
New movies would be shown first in the big downtown theaters, then later re-released for
screening in smaller "second run" theaters and small neighborhood houses. The studios
would charge these theaters less for movies that were being released for a second (or third)
time, and the theaters generally passed that savings on in the form of cheaper ticket prices.
Often, the second-run films were shown as double features. With the advent of television
and its ability to broadcast movies, the market for second-run movies evaporated
and one by one the neighborhood theaters were forced to close.
The Abbott showed its last movies in 1951. The next year, W.E. Neal and his wife Susan leased
the theater to Community Players Inc. The former movie house was remodeled to better present the
amateur theater group's productions. The small stage was extended, stage lights and a control
panel installed and dressing rooms built. In 1954, the Community Players purchased the theater.
Over the decades, Community Players staged dozens of shows at the Abbott but time steadily took its
toll on the old theater. In the early 1990s, when the theater needed a new roof and other expensive repair
work that the theater group couldn't pay for, the board of directors regretfully rang down the final curtain.
-----------------------------------------------------------
Note: This Article and picture appeared in the Herald-Dispatch Newspaper on Nov. 23 , 2014
-----------------------------------------------------------
[ Back ]