The Advertiser
------------------------------------------------------------------------------------------------------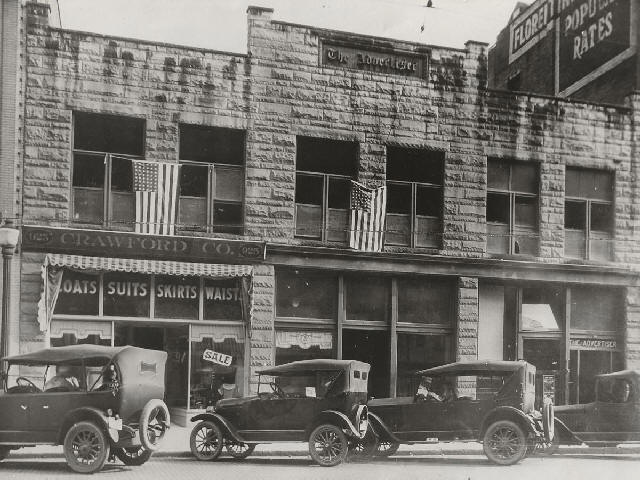 In 1900, Col. J.H. Long moved the Advertiserís home to the 900 block of 4th Avenue,
where the Keith-Albee Theatre now stands. This photo, taken about 1920, shows
the front of the Advertiserís building, next to the old Florentine Hotel.
Four years later, Long moved his newspaper again Ė
to a new building at 946 5th Ave.
------------------------------------------------------------------------------------------------------
HUNTINGTON ó Joseph Harvey Long (1863-1958) learned the newspaper business
in Wheeling. Hearing that a paper was for sale in Huntington, Long investigated and in
1893 purchased the Herald. The match between the Herald and its new owner
was an odd one. Newspapers of that era were intensely political.
Long was a lifelong Democrat. The Herald was a Republican paper.
So he soon sold it and acquired the Advertiser, a paper
whose politics matched his own.
In 1900, Long purchased property in the 900 block of 4th Avenue,
where the Keith-Albee Theatre now stands, and built there
what was then the stateís most modern newspaper plant.
Later The Herald merged with the Dispatch to become The Herald-Dispatch.
For a number of years, Longís afternoon Advertiser slugged it out
with the morning Herald-Dispatch, owned by Dave Gideon.
In 1924, Col. Long (the title was strictly honorary) bought the
northwest corner of 5th Avenue and 10th Street and
erected a new building for his paper.
Not be outdone, The Herald-Dispatch built a new home just a few
doors down. Shortly thereafter, the two newspapers declared a
truce and merged as the Huntington Publishing Co., with
Long as chairman and Gideon as president.
The Herald-Dispatch abandoned its new building and moved into the
Advertiser building. The papersí mechanical and business
operations were combined while the two news staffs
remained separate and highly competitive.
And thatís the way things continued for decades ó until 1972 when
the Gannett Co., one of the nationís largest newspaper groups,
purchased Huntingtonís newspapers. Initially Gannett
continued to publish both the morning Herald-
Dispatch and the afternoon Advertiser.
But afternoon newspapers across the nation were
folding, victims of sagging circulations and
faltering ad revenues. And on Aug. 24,
1979, the Advertiser published its
final edition, joining the ranks
of defunct afternoon papers.
-----------------------------------------------------------
Note: This Article and picture appeared in the Herald-Dispatch Newspaper on Oct. 20, 2019.
-----------------------------------------------------------
[ Back ]