The Bazaar
------------------------------------------------------------------------------------------------------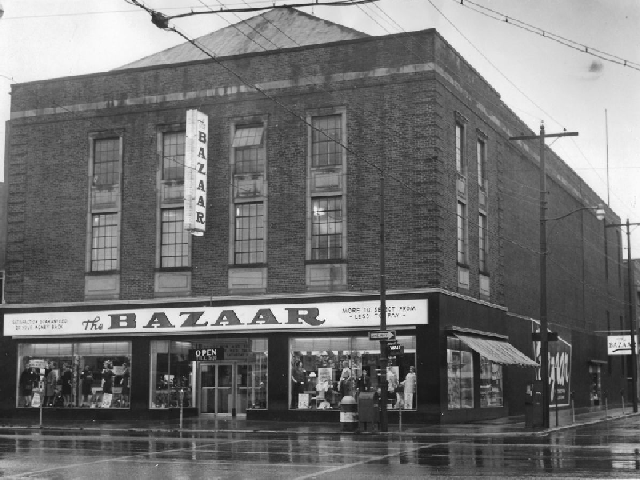 The Bazaar opened on the corner of 3rd. Avenue and 8th. Street in 1961. The
discount store proved enormously popular with bargain-minded shoppers.
------------------------------------------------------------------------------------------------------
HUNTINGTON -- In 1961, the Shoe Corp. of America, a company headquartered in Columbus, Ohio,
opened The Bazaar, a new store at 801 3rd Ave., a building previously occupied by
Montgomery Ward & Co. The store, which featured discount clothing,
proved enormously popular with bargain-minded shoppers,
Huntington businessman Lake Polan III bought The Bazaar in 1976 and renamed it the
Super B Co. In the 1980s, he changed the name back and re-focused the store's
merchandise on home decor rather than clothing. Citing declining
sales, Polan closed The Bazaar in 2005.
The opening of the Huntington Mall and the impact of Wal-Mart had dramatically
altered local shopping habits and forced the closure, he said.
In an interview with The Herald-Dispatch, Polan recalled the store's glory days.
"I have seen that store do $100,000 in a day," he said. "At the twice-a-year
Dollar Day sales, people would come in and be fighting each other."
The building at 801 3rd Ave. was built in 1884 by B.T. Davis,
who purchased the choice corner lot at 3rd Avenue
and 8th Street from Collis P. Huntington.
Davis operated a drug store on the ground floor and the Davis Opera House -
later renamed the Huntington Theater - on the upper part of the building.
The theater closed in 1928, and the following year saw the building
remodeled for use as a Montgomery Ward store.
Mostly vacant in recent years, the historic structure - one of the oldest in
downtown Huntington - is now the centerpiece of a $7 million
redevelopment by Capital Ventures partners Jim Weiler
and Phil Nelson, a project that's designed to include
restaurants, office spaces and luxury residences.
-----------------------------------------------------------
Note: This Article and picture appeared in the Herald-Dispatch Newspaper on Oct. 16, 2017
-----------------------------------------------------------
[ Back ]