The Beverly Theater
------------------------------------------------------------------------------------------------------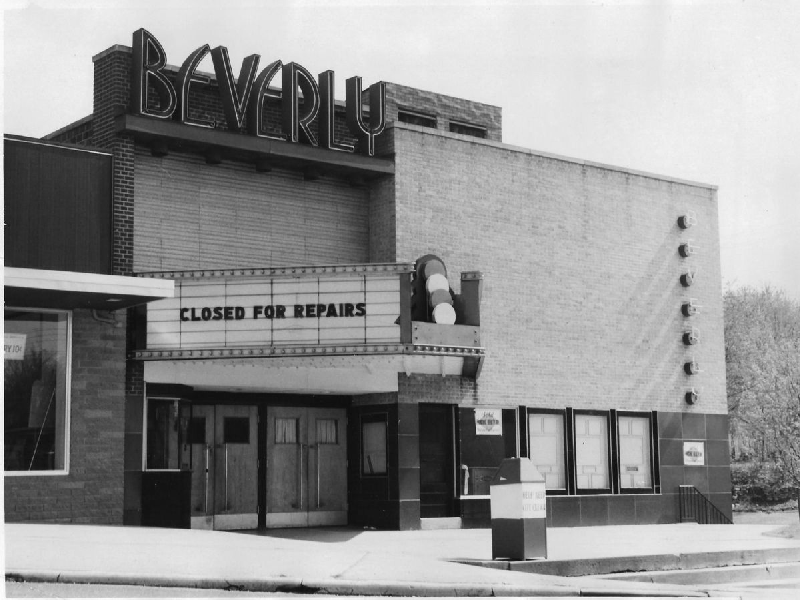 The Beverly Theater, shown here in a 1963 photo, was long in the city's
Beverly Hills neighborhood.
------------------------------------------------------------------------------------------------------
HUNTINGTON -- When commercial television debuted in the 1950s, many in the motion picture
industry feared it would be the death of their business. That didn't happen,
of course. Movies are still a hugely popular entertainment medium.
Nevertheless, the arrival of television meant Americans began making dramatically fewer trips
to their favorite movie house. According to U.S. Census Bureau data, the nation's weekly movie
attendance dropped from 90 million in 1946 to 60 million in 1950 and 40 million in 1960.
Little wonder that many theaters were forced to close their doors. Neighborhood theaters
that once were a familiar part of city life - theaters like the Beverly - were especially hard hit.
For nearly 30 years the Beverly was a familiar landmark in the neighborhood variously known as Beverly Hills
or Gallaher Village. Located at the intersection of Washington Boulevard and Norway Avenue, the theater opened
in 1941. Like most neighborhood theaters, it generally screened movies that already had played at the
larger downtown theaters and now were being made available to smaller venues.
In 1963, owner James W. Rodgers sold the 500-seat theater to two South Charleston men,
Walter P. Dils and C.L. Urling. Dils and Urling already operated seven other theaters in a half
dozen West Virginia cities - Charleston, South Charleston, Nitro, Richwood, Logan and Rainelle.
The two men called the Beverly "one of the best-equipped theaters around." Well-equipped it may have
been, but it closed in 1969. In 1971, the building was sold and converted into a food
market. Still standing, the building has housed various businesses over the years.
-----------------------------------------------------------
Note: This Article and picture appeared in the Herald-Dispatch Newspaper on Aug. 03 , 2015
-----------------------------------------------------------
[ Back ]