The Biltmore Hotel
------------------------------------------------------------------------------------------------------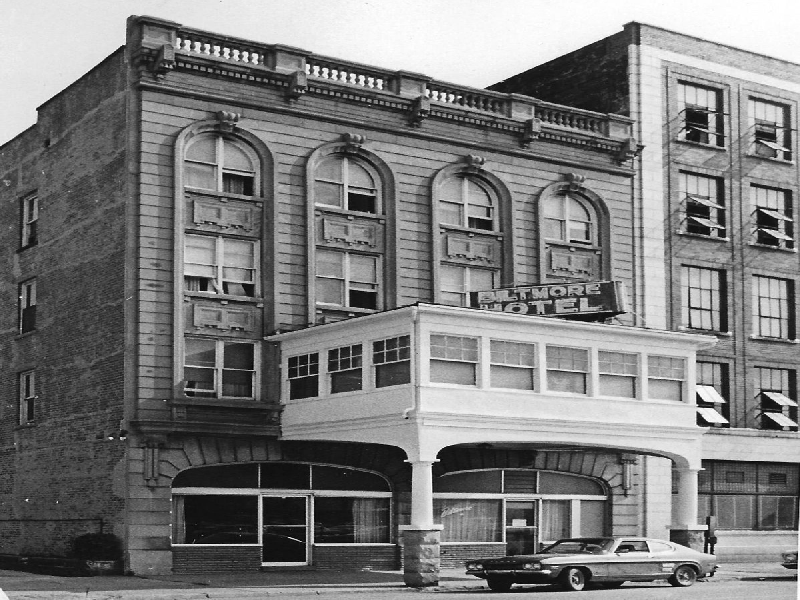 ------------------------------------------------------------------------------------------------------
HUNTINGTON -- In the heyday of America's passenger trains,
many so-called "railroad hotels" were built near railroad stations.
The hotels might not have been as fancy as others in town, but they provided clean,
affordable lodging for bargain-conscious travelers and train crews. Thus it was that
the 1920s saw construction of the Biltmore Hotel at 936 7th Ave., directly across
the avenue from the Chesapeake & Ohio Railway passenger depot.
The Biltmore initially did well, but the hotel struggled with the coming of the Great Depression
and the original owner lost it to an insurance company. In 1938, a Huntington couple,
B.B. Ball and his wife Bertha, leased the hotel and later purchased it.
Soon they had more business than they could handle as the travel demands of World War II
found the railroads carrying incredible numbers of passengers. That meant good business for
railroad hotels such as the Biltmore. Many nights saw room-less guests sleeping in the lobby.
That boom didn't last. After the war, the nation's new superhighways and growing airline industry combined
to quickly erode and ultimately destroy the railroads' passenger business. That was a body blow to the
Biltmore and other railroad hotels. As the years went by, the Biltmore went steadily downhill.
The Balls' son-in-law, Ralph Bartley, took over the hotel and saw the middle-class train travelers
of yesteryear replaced by long-term residents who lived from one Social Security
check to the next. Prostitutes began frequenting the place.
"We would try to keep them out, but there was no way," Bartley complained to a Herald-Dispatch reporter.
After 20 years of struggling to keep the Biltmore open, Bartley finally gave up and quietly
closed it 1978. Later the building was acquired by the Huntington post of the
Disabled Veterans of America, which used it for storage.
In 1999, when the former dress factory on the corner next door to the Biltmore was remodeled
as the Jean Dean Public Safety Building housing the Huntington Police Department
and Municipal Court, the old hotel was demolished to provide parking for it.
-----------------------------------------------------------
Note: This Article and picture appeared in the Herald-Dispatch Newspaper on Apr. 13 , 2015
-----------------------------------------------------------
[ Back ]