The Boldt Bottle Factory
------------------------------------------------------------------------------------------------------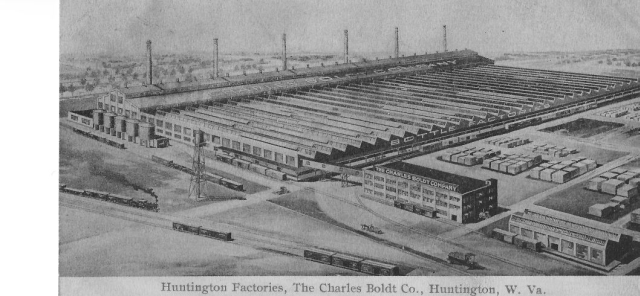 The Boldt Co. bottle factory operated from 1914 to 1918.
------------------------------------------------------------------------------------------------------
HUNTINGTON -- In 1913, the Charles Boldt Co., which operated a glass bottle plant in Cincinnati,
Ohio, began searching for a city where it could build a second factory. Attracted by Huntington's
strong rail and river transportation network, the company purchased
a tract of land on the city's South Side at West 5th Street.
There Boldt built, in 1914, a glass plant with three furnaces. Later it would add a fourth furnace
and then a fifth, along with a box factory and corrugated paper factory. On the
promotional postcard reprinted here, the company wasn't exactly modest
about its new Huntington plant, proclaiming it "the finest
and best equipped bottle factory in the world."
The Boldt plant used automatic bottle-making machines that were licensed from
Michael J. Owens (1859-1923), a West Virginia native who had invented them.
Born in Mason County, Owens left school at age 10 to become a glassware
apprentice in Wheeling. In 1888, he moved to Toledo, Ohio, and went
to work at a glass factory owned by Edward Drummond Libbey.
He quickly rose to foreman and then to supervisor.
His inventive genius -- backed by Libbey's cash -- gave birth to a bottle-making machine
that revolutionized the glass industry. The Owens machine could produce glass
bottles at a rate of 240 per minute and reduce labor costs by 80 percent.
The Boldt Co. operated its Huntington plant for only four years. In 1918,
Owens, who had formed the Owens Bottle Machine Co., took control
of the plant and removed the Boldt name from it. In 1919, Owens
and Libbey entered into a partnership and the company was
renamed the Owens Bottle Co. A decade later, in 1929,
the company merged with the Illinois Glass Co.
to become the Owens-Illinois Glass Co.
Over the following decades, Huntington's Owens plant produced literally billions
of glass bottles and containers. But production declined sharply in the 1980s, as
plastics gained an ever larger share of the market. Finally, in 1993, the
plant closed, writing an end to a significant chapter in the city's history.
-----------------------------------------------------------
Note: This Article and picture appeared in the Herald-Dispatch Newspaper on July 21, 2014.
-----------------------------------------------------------
[ Back ]