The Buffington Mill
------------------------------------------------------------------------------------------------------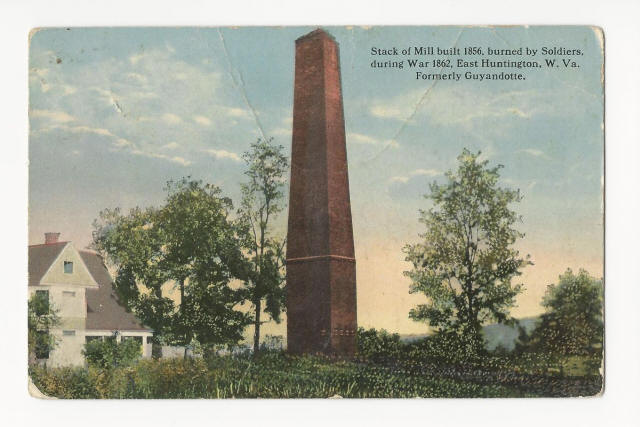 The printed caption on this postcard has a wrong date. Union troops
burned the Buffington Mill in 1861, not 1862.
------------------------------------------------------------------------------------------------------
HUNTINGTON -- Now part of Huntington, Guyandotte was a thriving place long before 1871,
when rail tycoon Collis P. Huntington established the new town that would carry his name.
In 1810, the Virginia General Assembly officially chartered 20 acres of land owned by farmer
and trader Thomas Buffington at the confluence of the Ohio and Guyandotte rivers as the village
of Guyandotte. The village became a frequent port of call for steamboats traveling the Ohio and a
daily stagecoach stop on the James River & Kanawha Turnpike. It soon boasted more than
40 houses and a growing number of businesses.
Constructed in 1856 on what is now Buffington Street, Guyandotte's biggest business was
the Buffington Mill. In his book "Civil War in Cabell County, West Virginia 1861-1865,"
State Archivist Joe Geiger Jr. of Huntington describes the mill as being the largest on the
Ohio between Pittsburgh and Cincinnati. He writes: "Wheat was unloaded from steamboats
and converted to flour. The flour was then placed in barrels and usually shipped south.
The mill was a three-story building with an overhead runway which ran over
Front Street and down to the Ohio River."
The outbreak of the Civil War saw strong support for the South in Guyandotte, with many residents
leaving to fight for the Confederacy. A Union recruiting post was established in the village, which
on Nov. 10, 1861, was attacked by a 700-man Confederate cavalry unit. The Confederates
easily overcame the outnumbered Union forces, most of whom were raw, untrained
recruits, but they withdrew the next day just before fresh Union troops arrived.
Angered by apparent collaboration between the Confederates and pro-South local residents,
the Union troops burned most of the village - including the Buffington Mill.
The mill's tall brick smoke stack survived the fire and for decades stood as a lonely landmark
in Guyandotte. It was finally demolished a number of years ago to make way for
construction of a Buffington Street apartment complex.
-----------------------------------------------------------
Note: This Article and picture appeared in the Herald-Dispatch Newspaper on June 30, 2014.
-----------------------------------------------------------
[ Back ]