The Bung Factory
------------------------------------------------------------------------------------------------------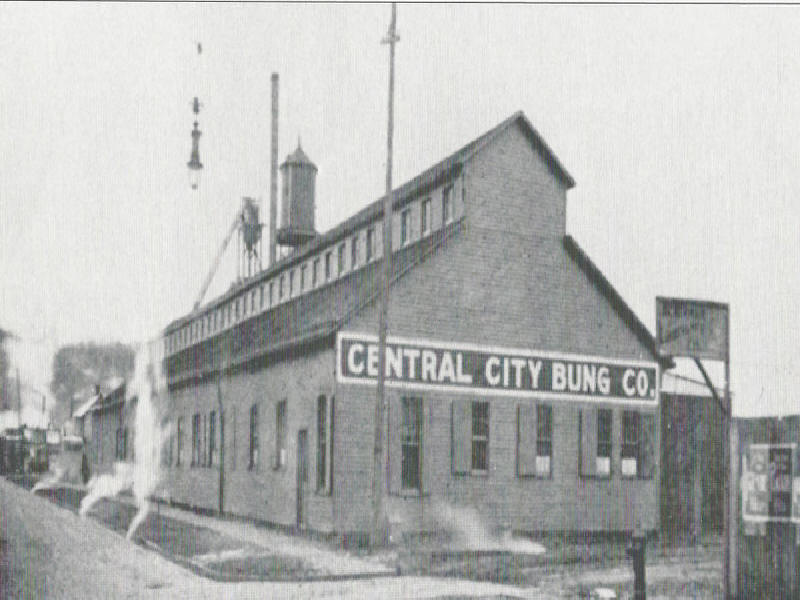 The Central City Bung Co. made its little community the "Bung Capital of the World".
------------------------------------------------------------------------------------------------------
HUNTINGTON -- The word "bung" is one that's seldom heard today. But in an era when beer and
whiskey were made and sold by the barrel, something was needed to plug the hole in the barrel.
And the little piece of wood that performed that essential task was a bung.
John Hale had a bung factory in Wirt County, West Virginia. When his factory burned down,
the town fathers in Central City, a new community that had been established just west of
Huntington, offered him a plant site for practically nothing - an offer he eagerly accepted.
Located on the block bounded by Monroe and Jackson avenues, between West 14th and
West 15th streets, the Central City Bung Co. opened in 1894 and was an immediate success.
About 1900, a new process was invented for manufacturing the handy wooden stoppers.
It involved a machine that would compress the air out of the wood before it was carved.
The new process was the property of the U.S. Bung Co. of Cincinnati, which acquired the
Central City Bung Co. and installed the necessary new machinery in the Huntington plant.
In an article in the Winter 2003 issue of "Goldenseal" magazine, Huntington writer
Jean McClelland noted the Cincinnati company was determined to keep its new
process a secret and went to great lengths to do so, with barred plant
windows and around-the-clock security guards.
In 1909, Huntington annexed Central City but the change in local government had no impact
on the bung factory, which continued to turn out a steady stream of stoppers, eventually
earning its little community the unofficial title of "Bung Capital of the World."
But the factory's days were numbered. In 1914, West Virginia prohibited the sale of
alcoholic beverages, robbing the factory of most of its local customers. Then, in 1917, federal
Prohibition forced the plant to close its doors. Its machinery was stripped and sent to Cincinnati.
Oddly enough, its Cincinnati owners continued to post armed guards at
the empty plant until 1930, when it finally was sold and demolished.
-----------------------------------------------------------
Note: This Article and picture appeared in the Herald-Dispatch Newspaper on Oct. 19 , 2015
-----------------------------------------------------------
[ Back ]