C&O's FFV
------------------------------------------------------------------------------------------------------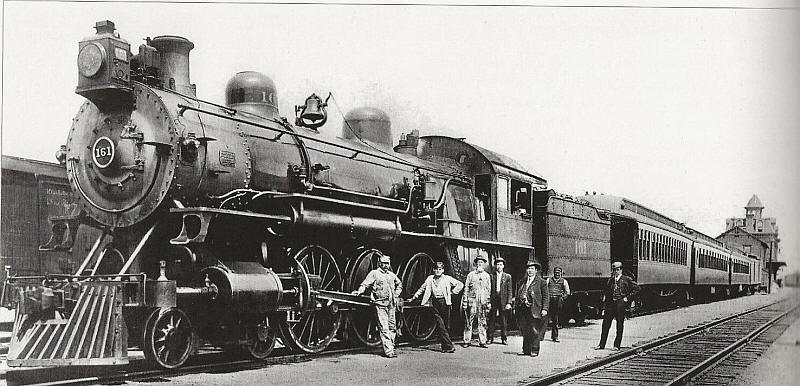 A 1906 photograph shows the FFV poised to leave the C&O's old Huntington depot.
The man at the center in white coveralls is "Uncle" Billy Richardson, one
of the C&O's best known engineers. He was made famous
by the oft-recorded folk song "Billy Richardson's
Last Ride," recalling his death at the
throttle in a 1910 wreck.

Courtesy the C&O Historical Society
------------------------------------------------------------------------------------------------------
The Fast Flying Virginian was a named passenger train operated by
the Chesapeake & Ohio Railway. The FFV, as it generally was
called, was inaugurated in 1889 and ran until 1968, making
it the C&O's longest running passenger train.
The train operated on a daily daytime schedule. At first it left from
Jersey City, N.J. Later it departed from Penn Station in Manhattan,
traveling south to Washington, D.C., then through Virginia,
continuing west over the Blue Ridge Mountains into
West Virginia, through the New River Gorge and
finally crossing into Ohio at Cincinnati. Major
station stops for the FFV included
Huntington and Ashland, Ky.
A prestigious train, it was the first in the C&O system
to operate with a dining car and one of the first
in the country to feature cars with enclosed
"vestibules," enabling safe and convenient
passage from car to car.
In his "Cabell County Annals and Families," local historian George S. Wallace
detailed a gun fight aboard the FFV .On the night of Dec. 13, 1892,
two armed men boarded the waiting train in Huntington and
demanded that the passengers hand over their cash.
Jumping up, a passenger tackled one of the bandits
and other passengers quickly joined in the fray.
The bandits opened fire, killing the first
passenger and wounding another.
At that point, the train's conductor, pistol in hand, entered the
coach and began shooting at the two robbers. They fled
the coach but were quickly captured. Convicted of
murder, both were sentenced to life in prison.
Today, Amtrak's Cardinal train follows the route
of the FFV from New York to Cincinnati
before continuing on to Chicago.
-----------------------------------------------------------
Note: This Article and picture appeared in the Herald-Dispatch Newspaper on Nov. 7, 2023.
-----------------------------------------------------------
[ Back ]