The Day and Night Bank
------------------------------------------------------------------------------------------------------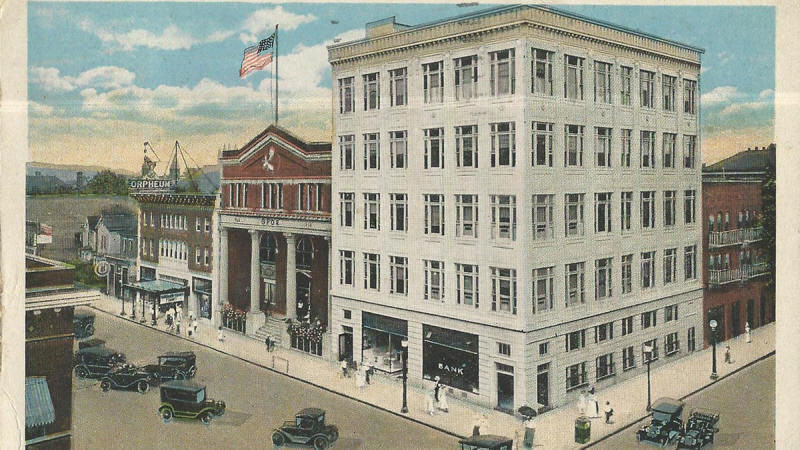 This vintage postcard, mailed in 1923, shows the former Day and Night Bank and
the adjacent Elks Club and Orpheum Theater.
------------------------------------------------------------------------------------------------------
HUNTINGTON -- People who knock off work early are often accused of keeping "banker's hours."
The phrase dates back to an earlier era when banks typically closed in mid-afternoon.
As suggested by its name, Huntington's Day and Night Bank did things differently,
keeping its doors open until 10 p.m.
The Day and Night Bank was located in the five-story office building
on the southeast corner of 4th Avenue and 10th Street.
Erected in 1903, the gleaming white building immediately attracted doctors, lawyers and other professionals
to the offices on the upper floors. The original tenant for the first-floor space was a store operated
by John W. Valentine. In 1905, the first floor was occupied by the First Trust Company and
Savings Bank, which was acquired by the First National Bank of Huntington in 1912.
The building's vacant first-floor space was quickly occupied by the newly formed Day and Night Bank,
with Henry O. Abshire as cashier. Abshire previously had been an official with First Trust.
A year later, on March 26, 1913, The Herald-Dispatch reported that the young bank's first year had
been a successful one. With more than 5,000 depositors and total assets of $226,000, the bank was
said to rank well "with many of the older banks here." The newspaper noted that the bank's
extended hours of operation had "attracted a cosmopolitan and substantial patronage."
That early success didn't last, however. In 1919, the Day and Night Bank vanished, acquired by the
Huntington National Bank. The Day and Night's former home is still standing
and has housed a number of different tenants over the years.
-----------------------------------------------------------
Note: This Article and picture appeared in the Herald-Dispatch Newspaper on Nov. 23 , 2015
-----------------------------------------------------------
[ Back ]